Construction is finally completed at NextDC's S3 data center in Sydney, Australia after AU$1 billion (US$685m) of investment.
The first phase of the data center opened in August 2022, after construction started in March 2021. Construction on the second phase has now finished.
The facility now has over 26,000 sqm (280,000 sq ft) of data halls and ancillary infrastructure space across nine levels, and 20,000 sqm (215,000 sq ft) of IT space, with a capacity of 80MW across 10,800 racks. The second and final phase of construction added 12,000 sqm (129,165 sq ft) of data hall space to the first phase.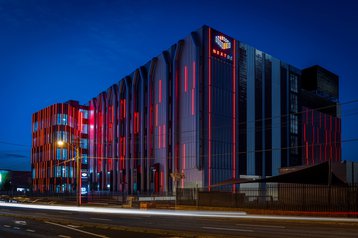 The facility was designed by Greenbox Architects and has been awarded an Uptime Institute Tier IV certification. As NextDC's third data center in Sydney, S3 interconnects to NextDC's existing S1 and S2 Sydney data centers. The company also has plans for S4 in Horsley Park, and S5 in Macquarie Park.
The second stage of construction works, done by Multiplex, began in January 2022, and has been completed two months ahead of schedule. To accomplish this, 350 construction workers were onsite daily for 18 months. In total S3 has employed more than 3,000 workers throughout the project.
"We are delighted to continue our partnership with NextDC and complete this highly technical project. This strategic collaboration delivered on our shared vision to provide an innovative, world-class space for the rapidly evolving tech' sector," said regional managing director of Multiplex NSW, David Ghannoum.
According to NextDC COO Simon Cooper, the expansion will allow NextDC to extend its existing services, and to offer new innovations such as a customer experience auditorium, mission-critical spaces, and enhanced interconnectivity with ICT partners, cloud platforms, and telecommunication providers.
The construction of S3's second phase was somewhat complicated by Stage One of the building in active use during the works. In addition, four 21.2-tonne on-site generators had to be installed in the building before Stage Two's facade was complete.
In January of this year, NextDC secured an AU$400 million (US$279m) debt facility to fund the Sydney expansion and its global expansion plans.
The company confirmed in May that it was expanding beyond Australia with new projects planned in Kuala Lumpur, Malaysia, and Auckland, New Zealand, and was looking to raise an additional AU$618 million (US$413.3m) to fund those projects.