New Zealand eScience Infrastructure (NeSI) is to upgrade the Mahuika High Performance Computing (HPC) cluster.
A $2.1 million investment from the University of Auckland, University of Otago, and Manaaki Whenua - Landcare Research, will reportedly "double the performance and significantly extend the computational capabilities" of the current system.
"What we're seeing in the sector is a rapid uptake in software, tools, and technologies around computation; we're lifting the scale and increasing the richness of the platform to keep pace with researchers exploring the frontiers of their science," said Nick Jones, Director of NeSI. "No one party is capable of taking on that challenge alone, so this joint investment by NeSI Collaborators — the University of Auckland, the University of Otago and Manaaki Whenua - Landcare Research — is the sector coming together to achieve scale and enable science."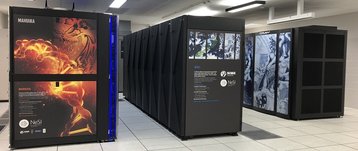 Mahuika came online in 2018; the Cray CS400 cluster features Intel Xeon Broadwell nodes, FDR InfiniBand interconnect, and Nvidia GPUs and is capable of 308 teraflops of performance.
Supplied by HPE, Mahuika's additional capacity will be based on AMD's Milan architecture and include Nvidia HGX 80GB A100 Graphics Processing Unit (GPU) cards, and expanded high-memory capabilities. The upgrade includes 64 HPE Apollo nodes totaling 8,448 new cores across two new racks.
In addition to doubling Mahuika's computing power, the new nodes are more than 2.5 times more power efficient. The new equipment will be hosted in Wellington, at the national HPC facility of National Institute of Water and Atmospheric Research (NIWA).
"It is extremely positive to see a previous Cray systems customer see value in the broader portfolio that HPE can offer HPC clients by continuing the partnership a second time round," said April Neoh, HPE Account Executive, HPC/AI & Big Data Storage.
NeSI is also home to Māui; a Cray XC50 supercomputer featuring Skylake Xeon nodes capable of 1.4 petaflops of performance.
In Maori mythology, Mahuika is a fire deity from whom Māui obtained the secret of making fire. Māui caught a giant fish that would become the island of New Zealand.