A blockchain company and a state-owned investment firm are joining forces to create a new supercomputing center in China.
SOS has announced a joint venture with Ronghe Finance and plans to establish a Supercomputing Center in Qingdao, China.
Under the agreement, the new joint venture will be called SOS Ronghe Digital Technology Co., Ltd., aka SOS Ronghe. The goal is to establish the first large-scale Supercomputing Center in the Qingdao region in the country's eastern Shandong province and "become a leading data and supercomputing and R&D base in China."
Register now for DCD>APAC, our virtual event on data center design & construction in Asia Pacific
A supercomputing center for crypto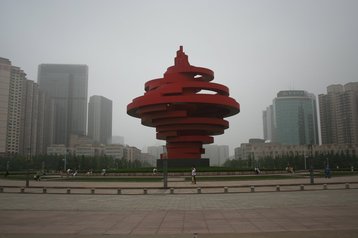 "We believe our joint venture with Ronghe is a key infrastructure investment focused on blockchain and big data, which will be a growth engine for both SOS and Ronghe," said Yandai Wang, CEO of SOS.
The two companies will inject $9.1 million in the venture, with SOS contributing 51 percent. SOS-Ronghe will primarily focus on cloud computing, high-performance computing, big data, blockchain-based assets, and cryptocurrency activities.
Ronghe Finance is an affiliate of Qingdao West Coast New Area Ronghe Holding Group Co., Ltd, a state-owned investment enterprise in the Qingdao Shandong Province of China. SOS describes itself as a 'blockchain-based and big data-driven marketing and solution provider' but also provides a number of other marketing, healthcare, communications, and call center services.
Last month the company announced a deal with the Leibodong Hydropower Station in Hejiang County, Luzhou, Sichuan to provide the company with space and power to set up a bitcoin mining facility. In January it acquired Canadian blockchain consultancy firm FXK Tech Corporation.