NEC Deutschland has delivered a new HPC system at the Technische Universität Dresden's Center for Information Services and High Performance Computing (ZIH) in Germany.
The system is powered by 272 Nvidia A100 GPUs, eight in each of the 34 compute nodes. Their theoretical maximum performance of floating-point operations is more than 2.6 Petaflops at 64-bit (double precision), more than 5.3 PFlop/s at 32-bit (single precision), and more than 42 PFlop/s in FT32-to-FP32 tensor operations.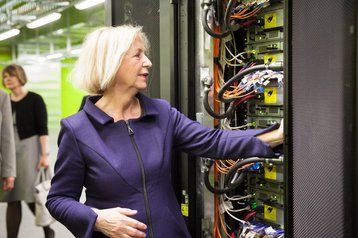 Upgrade
Each node has 1TB of main memory and 3.2 TB of local NVMe cache. The maximum power consumption of a node is 4.8 kW and direct hot water cooling (DLC) ensures high energy efficiency while utilising the waste heat.
The new HPC cluster is specially designed for machine learning and was financed by the German Ministry for Science, Research and Education (BMBF) and will be integrated into the existing HPC infrastructure of the ZIH. This includes the High Performance Computing and Storage Complex (HRSK-II), a 1.5 Petaflops system with about 60,000 CPU cores.
"The new machine learning solution from NEC provides us with a new level of high performance computing power for our AI research. The most important reasons for our decision have been the excellent computational capacity for the given budget, as well as a very convincing cooling concept," said Professor Dr. Wolfgang Nagel, director at the Center of Information Services and High Performance Computing.
"TU Dresden has an excellent reputation in research and ZIH is a very important HPC data center in Germany. Therefore, we feel very honored that NEC was given the task to deliver a new Petaflop system for their AI research," added Yuichi Kojima, Managing Director of NEC Deutschland GmbH and Vice President HPC at NEC Europe.