Philippino IT firm DFNN, Inc. and Nautilus Data Technologies are partnering to develop a data center in the Philippines. This marks Nautilus's second agreement in Southeast Asia this month.
The two companies have inked a memorandum of understanding (MoU) to collaborate on the development of a data center in the Freeport Area of Bataan. Specifications or timelines were not shared.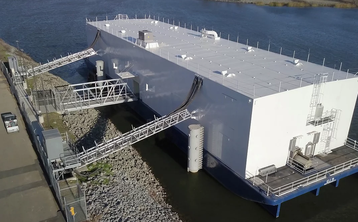 DFNN COO Ricardo F. Banaag said: "Connecting the entire technology ecosystem is of great importance in creating value to both business and stakeholders. In this case, providing for a sustainable data center will ensure resiliency in the face of rapid growth and demand."
Founded in 1999, Manila-based DFNN is an IT solutions provider and systems integrator that also provides Electronic Gaming Machines (EGMs), a sports betting exchange, and other gaming services.
US-based Nautilus first emerged with plans for data centers on barges cooled by the water on which they float – launching a facility in California last year – but has since transferred its water-cooling techniques to land-based facilities, with a project to construct a $300 million water-cooled data center in Penobscott, Maine.
Nautilus brands its cooling ideas as TRUE (Total Resource Usage Effectiveness) technologies, which it says reduces energy costs and eliminates water consumption, wastewater production, and harmful refrigerant use.
Earlier this month, Nautilus announced a partnership with Thai luxury property developer Raimon Land which will see Raimon use Nautilus' water-cooled data center architecture to build facilities in Thailand and other regional markets including the Philippines. This month has also seen Raimon Land sign an MoU with Nava Nakorn (a business park in Pathumthani) and energy company Ratch Group for the 'sustainable data centers,' though further details weren't shared.