The National Geospatial-Intelligence Agency is seeking industry input for a potential data center contract.
Scant details are available given the classified nature of the agency's work, with the NGA serving as a combat support agency for the Department of Defense and as a member of the United States Intelligence Community. The agency collects, analyzes, and distributes geospatial intelligence for national security purposes.
Spying requires a lot of storage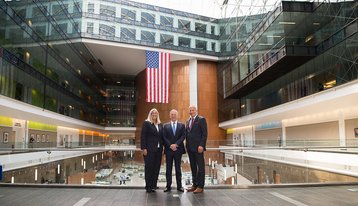 "NGA is contemplating a single-award indefinite-delivery indefinite-quantity (IDIQ) contract with up to a ten-year ordering period to acquire User Facing and Data Center Services (UDS)," a Request for Information (RFI) advertisement on the federal procurement website states.
"The purpose of this Request for Information (RFI) is to assess interest and capability from Industry to provide design, engineering, implementation, operations, sustainment and disposal of user facing and data center IT services for NGA."
Unfortunately, further information about the facility is only available through the classified Acquisition Research Center (ARC) website.
The public RFI posting does note, however: "Most importantly, NGA seeks to deliver a state-of-the-art IT baseline for the Next NGA West (N2W) program."
The N2W program is a huge new campus that is expected to house 3,150 government personnel and contractors. Work began on the 97-acre site in St. Louis, Missouri, on November 26. The "mega-project" will feature a 712,000 square foot (66,150 sq m) office building, parking garages, visitor center, inspection facility, and access control points.
A 2016 Environmental Impact Statement for the campus states that a "data center may be constructed sometime in the future."
The NGA currently operates a data center in Arnold, Missouri. Again, few details are known, but construction company Gulisek claims its project costs amounted to $12m. A 2012 document notes upgrading generator capacity by 5MW.
NGA's existing smaller St Louis offices are home to the "Saint Louis Information Library," which appears to store much of NGA's legacy data.
Among the projects kept on STIL are three critical NGA imagery libraries: the Imagery Analyst Command Information Library (IACIL), the Mapping, Charting, and Geodesy Information Library (MC&GIL), and the Unclassified National Information Library (UNIL). In 2011, NGA documents said that it planned to migrate Command Information Library (CIL) holdings and airborne tactical imagery (still and motion) from the secret/collateral (SC) National Information Library (NIL) to STIL at a future date.
The National Geospatial-Intelligence Agency also operates data center services out of its headquarters, the NGA Campus East at Fort Belvoir North Area in Virginia.
In a 2012 report, the US Government Accountability Office criticized the East data center, with the project poorly scoped out and ultimately wastefully built. For three years, an entire floor of the data center was left unused as technology advancements lowered the need for more server space.
However, the agency plans to store more data than ever, and may still use that floor as well as the new data center in N2W. "NGA is currently undergoing significant data storage modifications," a 2012 military document states. "New sensors and increases in the data storage holding times have significantly increased the need for more data storage."
It adds: "This project will allow NGA to meet the needs of expanding mission requirements. A recent volumetric study to analyze NGA's data storage requirements through the year 2020 projected that NGA's requirements for storage will increase by hundreds of Petabytes over the next decade."