Italian Internet exchange operator Namex has announced a new data center and Internet exchange point (IXP) in the city of Bari.
Namex Bari, located in the port city on the Adriatic Sea and the capital of southern Italy's Puglia region, will be available from the beginning of 2022.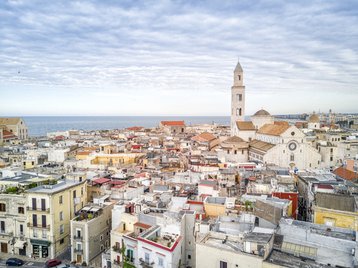 "Like other hubs in different sectors such as ports, stations, and airports, Namex Bari will contribute to making Southern Italy, and in particular Apulia and the surrounding regions, richer in opportunities and more easily accessible. Said Maurizio Goretti, Namex CEO. "Apulia is a region particularly rich in ISPs among those of Southern Italy and it is not yet optimally covered by the other IXPs present in Italy."
Bari will be joining the current Italian IXPs present in Milan, Rome, Turin, Padua, and Palermo, and will be managed directly by Namex, a consortium of Internet operators based in Rome.
Namex said the operators present at Bari will be able to benefit from the presence of Retelit, owner of the Bari cable landing station of the AAE-1 submarine system as well as host of the Italian terminal of IG-1 cable connecting Italy and Greece.
"Thanks to the presence in the region of landing stations of international submarine cables, the Namex Bari carrier-neutral data center could be a candidate to host content for users in some countries of the Mediterranean basin and to become a point of interconnection between European and non-European operators," said Renato Brunetti, Namex President.
In September Namex completed an upgrade at its Ceaser data center hosted by CINECA in Rome, adding 220 sqm (2,300 sq ft) for additional racks and 150 sqm (1,600 sq ft) of technical rooms. It also added points of presence at Interxion and Unidata facilities in the city in August.
"We are pleased with the initiative of Namex to start a new IXP in our city because we believe it will represent a new attractor of development opportunities for the territory," said the deputy mayor and councilor for technological innovation of the Municipality of Bari, Eugenio Di Sciascio. "The city is already at the junction of several submarine cables that connect Europe to the Middle East, Asia, and other Mediterranean countries. The presence of an IXP and a carrier-neutral data center managed by Namex will be determining factors of the strategy that aims to make our city a reference point in the digital innovation."
More in Construction & Site Selection