Nel of Norway has scored a €45 million ($46m) order for hydrogen electrolyzers from a US company, bringing hope that the hydrogen economy could be taking off.
The deal covers 200MW of electrolyzers, which is Nel's biggest order to date, and is very significant given the total hydrogen electrolyzer capacity in operation around the world is only around 240MW, according to Recharge.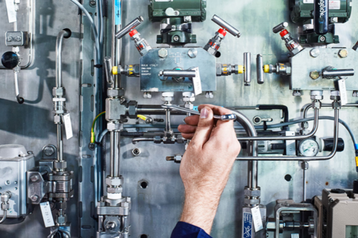 The cost, €225,000 ($229,300) per MW, represents a significant reduction in price for hydrogen capacity.
Getting things started?
Hydrogen could play a very significant role in reducing emissions. Hydrogen is an energy store not an energy source, but it can be generated with electrolyzers powered by renewable electricity, and could potentially replace fossil fuels in roles where high energy density is needed.
As this deal shows, however, the hydrogen economy is still at a very early stage, and nowhere near the levels that would be required to start displacing fossil fuels.
Nel's former CEO Jon André Løkke has warned that the market is currently blocked because of "final investment decisions" on green hydrogen projects - not enough people are putting their money where their environmental mouths are, in other words. The company has also expressed concern that other sectors might suddenly flip to hydrogen, and produce a level of demand that cannot be met by electrolyzer makers.
Data centers are often cited as potential first movers in the sector, as they can afford high margins for environmental credentials. Microsoft, in particular, has been using hydrogen in pilot projects, including a test that ran a significant amount of IT on hydrogen.
Nel's buyer is a mystery but is most likely to be a grid player. The company has said that the project has been in development for several years, and will involve private investment and government incentives. Local buyers have made 20-year commitments to purchasing the hydrogen, and the buyer has a 20-year power purchase agreement in place to provide the renewable electricity needed to make the hydrogen.
Meanwhile, there is, one other very large project in production at the moment: H2 Energy has ordered 1GW of electrolyzers from Plug Power, to make use of electricity from a giant offshore wind farm.