Swedish air conditioning and climate control specialist Munters will be winding down its data center business in EMEA, and is planning to close a specialized factory in Dison, Belgium. According to local publication RTBF, 216 jobs are under threat.
The restructuring plan was revealed in 2018 financial results, published last week.
The decision follows a difficult quarter for the company: despite a high number of orders in 2017 (including one for SEK 450m), the data center division reported a significant loss for the last three months of 2018.
As a result, Munters will take a write-down of SEK 323 million ($34.66m) related to its data center operations.
The company's entire range of data center products will remain available in North America.
No longer with us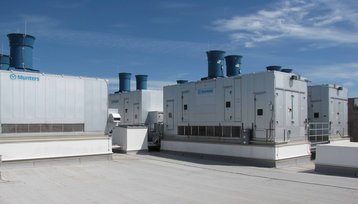 Munters has been developing solutions for air treatment since 1955. The company is active in the food, pharmaceutical, electronics, agriculture and mission-critical infrastructure sectors, and is majority owned by Nordic Capital.
After a disappointing year, Munters is embarking on a major restructuring initiative that will see its data center business considerably reduced in size. The three-phase plan was one of the first decisions to be announced under the interim president and CEO, Johan Ek.
In December, concerned about the group's financial performance, Munters' board of directors decided that it was time for his predecessor, John Peter Leesi, who took the company public in 2017, to leave. There were also major changes made to the board itself.
"The fourth quarter performance was characterized by encouraging trends in many of our activities, but also ongoing disappointments in the data center business," Ek said in a statement.
"Data centers continued its negative trend, reporting a significant loss in the quarter, mainly derived in the European business. The continued losses in data centers, as well as the group earnings for full year 2018 being at the same level as last year, are unsatisfying." He added that the problems seemed to be caused by tight margins, rather than slow sales growth.
Besides writing off SEK 323 million directly, Munters will also spend approximately SEK 350 million ($37.55m) to restructure its business and close the factory in Belgium.
The company is also investigating alternative options, including partnerships and divestiture of assets; any job cuts or facility closures will be subject to consultation with the relevant employee representative bodies, i.e. Belgian unions.
Munters will continue to sell data center products in the US and Canada, and operate its data center and air treatment equipment factory in Buena Vista, Virginia. However, the data center division will not keep its independence, and will be integrated into the Air Treatment business unit during the first quarter of 2019.
"Our analysis of our data centers operations has convinced the board of directors and the management team, that the prospects for establishing a profitable data center business in Europe are limited in a market with overcapacity and ongoing price pressure. Our focus going forward will mainly be on the US data center market where we have a more commercially viable base for achieving profitable growth," detailed the earnings report.
"Munters' move may come as a surprise after a year of strong deliveries including a hyperscale facility, but it's a decision of an astute management," Daniel Bizo, principal analyst for Data Center Services & Infrastructure at 451 Research, told DCD.
"The fact that mature technology and a long list of customers, some of them major operators, is not enough to succeed shows the cruel reality all makers of data center equipment must face. As the structure of demand changes from many customers to a handful of massive and demanding buyers, price pressure and the financial difference between hits and misses will only get worse.
"Further consolidation and the need to share design and manufacturing across product lines and even industries seem to be an inevitable consequence."
Unfortunately, the announcement means Munters will not be exhibiting at the upcoming DCD Energy Smart conference in Stockholm, Sweden.
If you have any further information about the fallout from the news, you can contact DCD confidentially on [email protected].
More on business issues:
The optical networking company's US division has difficult times ahead

British taxman moves to Amazon, leaving the business unable to keep the lights on

Robert Swan takes over as interim chief