MNC Land has signed a deal with Infokom to build a data center in a new resort city south of Jakarta, Indonesia.
MNC Land is the real-estate development subsidiary of Indonesian conglomerate MNC Group. Located to the south of Bogor city, West Java, Lido City is an MNC project to create a large tourist and resort destination in Indonesia that will include hotels, theme parks, a golf course, and other attractions.
The company has signed a memorandum of understanding with local ICT firm PT Infokom Elektrindo (Infokom) to "develop an integrated infrastructure and high-tech ecosystem" within the Tourism Special Economic Zone (SEZ) of MNC Lido City.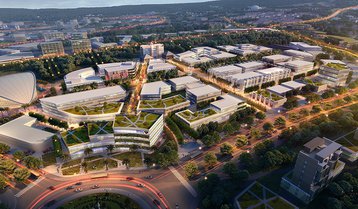 Infokom is to be the infrastructure provider within Lido City, which will include core IT infrastructure, backbone, fiber optic networks, and a data center. Specifications were not shared.
The two firms said they hope to set up a "Techno Park" within Lido City to create a technology hub in the country.
"Infokom's experience in the digital business infrastructure and ICT solutions combined with the strategic location and development ambitions of the SEZ MNC Lido City will highlight Techno Park to be one of the largest high-tech ecosystems in Indonesia," said Hary Tanoesoedibjo, President of MNC Media.
Infokom is a subsidiary of telco firm Global Mediacom, which itself is owned by MNC Group. The site will reportedly utilize clean energy such as solar polar. Infokom will also act as the lead investor and manage other ICT investors and strategic partners.
In total, Lido City will have 1,040 hectares of space and more than 450MW of total capacity. As well as the data center, the city aims to offer retail outlets, dining, events venues, and a number of hotels as well as a golf course and theme park. The area was designated a Special Economic Zone (SEZ) by the Government in September.
The site was due to include a Donald Trump-branded resort & golf club, but a report from earlier this year suggests the plan might have been scrapped.
In Japan, a local development firm recently partnered with ESR to build a data center in Nagasaki as part of a bid for a resort operating license.
More in Construction & Site Selection