Microsoft wants to replicate a battery-sharing arrangement it has tested at a Dublin data center in Ireland.
The scheme, announced in 2022, uses a lithium-ion battery energy storage system (BESS) and a grid-interactive uninterruptible power supply (UPS) from Eaton to share energy with the local grid when needed.
This system was a good fit for the particular problems of the Irish grid, where data center construction is limited by power constraints, but could now be used elsewhere, the company told a London conference.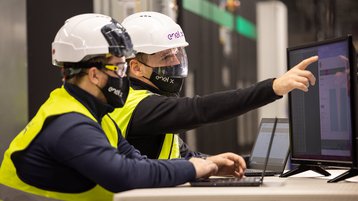 In Dublin, Microsoft replaced the lead-acid batteries in its UPS with lithium-ion batteries, which will reduce the need to fire up diesel generators. At the same time, the new BESS allows controlled involvement in a frequency-regulation system run by the local utility EirGrid, which routes power to the grid when there is a short-term need.
The system uses a UPS developed by Eaton, while the BESS was installed by global demand-response specialist Enel X, a company that aggregates power sources into "virtual power plants."
Having been proven in Dublin, the system could now be applied everywhere, senior program manager Dr. Christoph Mazur, told the Energy Storage Summit EU in London this week, according to a report from Energy Storage.
The system is helping the decarbonization of the Irish grid, by using stored energy to support it when renewable energy supplies are lower than demand, Mazur said.
Grid-balancing services are normally provided by fossil fuel plants which can be switched on at times of need explained Tony Whittle, managing director for Enel X UK & Ireland, but this creates a double problem. Intermittent supplies of renewable power increases the need for such balancing, while the availability of fossil power is scheduled to decrease as older power stations are retired.
On top of that, batteries are actually better at providing the kind of short-term top-up required by a grid that is moving to renewables. Instead of an on-off process, "it's more like a dimmer switch," said Whittle.
Ireland wants to move to 70 percent renewable energy by 2030. Data centers are cited as a problem in achieving that, as they currently use 10 percent of the country's electricity, which was predicted to grow to 30 percent by 2030, prompting a slowdown in data center development.
Microsoft has some 255MW of capacity in its Dublin campus and is building more this year, under permissions granted before Dublin's current limits on data center building. The company has not said how much it is prepared to share with the grid.
Whittle wants to see the UK follow Ireland, and open its "dynamic containment" frequency response scheme to data centers.