Microsoft has invested $50 million in a sustainable aviation fuel company, which will also be providing renewable diesel fuel made with ethanol.
The Microsoft Climate Innovation Fund will invest $50 million in LanzaJet's Freedom Pines Fuels plant in Soperton, Georgia, which is the world's first refinery producing jet fuel from alcohol made in part from waste. The plant is due to being production this year, of sustainable aviation fuel (SAF) and diesel replacement fuel, which will be suitable for data center generator sets and other uses.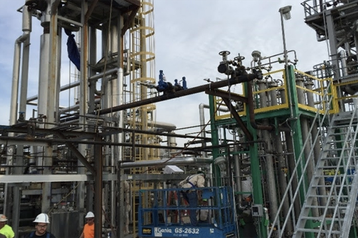 Jet fuel that doesn't kill the world?
Sustainable aviation fuels (SAF) can be produced from waste, and are intended to become more widespread, but the penetration of SAF into worldwide flying is slow, and generally seen as too late to affect the crucial need to reduce emissions in the next ten years. While other industries such as data centers are making plans to be carbon neutral by 2030, the aviation industry, which contributes around five percent to global warming, is lagging. In the US, the Biden administration has set a target for net-zero aviation emissions by 2050, and the EU has asked the industry to be using 63 percent SAF by 2050.
In September of 2021, the White House set a target of 3 billion gallons of SAF produced per year by 2030 - this compares with US consumption of around 18 billion gallons in a normal year, and 10 billion in Covid-hit 2020. LanzaJet is planning to produce one billion gallons - around one-third of the US planned capacity - by 2030. The Freedom Pines plant will start with a much smaller amount this year - 10 million gallons.
SAF generally takes ethanol and turns it into synthetic kerosene, but some produce that ethanol from food or animal feed. LanzaJet says its fuels are made from waste fermentation and do not impact food or feed.
The Microsoft financing is intended to catalyze the market for waste-based ethanol feedstock, and help develop the supply chain to make it used. The Freedom Pines plant will start demonstrating clear demand signals for ethanol that can achieve greater carbon reductions.
The investment is part of Microsoft's efforts to achieve its 2030 goal of becoming carbon negative and helping others achieve net-zero. It will help Microsoft have access to sustainable, renewable diesel for its data centers.
It could also help indirectly with another large source of Microsoft's emissions - employee travel. While the world has adopted solutions like Zoom and Teams to reduce travel during the pandemic, Microsoft has historically had a huge travel budget, with its own check-in area at Seattle airport. Before the pandemic hit, Microsoft's travel emissions were more than the total national emissions of countries like Samoa and Burundi, according to the campaign #JustUseTeams.
Most of LanzaJet's funding comes from the airline and fuel industries, including Suncor Energy, Mitsui, British Airways, Shell, and All Nippon Airways.
"The partnership with Microsoft is more than just financing – it advances our work towards net zero fuels, it enables lower-cost sustainable fuels into the market, and it supports the urgency to have real, proven technologies scale-up and deploy," said Jimmy Samartzis, LanzaJet CEO.
"With this investment, we support LanzaJet in creating new pathways to help companies across industries achieve net-zero carbon through the use of sustainable fuels. Decarbonizing hard to abate industries and technologies will be essential to achieving our carbon reduction goals by 2030," said Brandon Middaugh of Microsoft's Climate Innovation Fund.