San Antonio, Texas, has granted permission for Microsoft to remove thousands of trees from a site where it plans to build a data center, in return for paying money into a mitigation fund.
Microsoft will pay $1.47 million into the city's tree mitigation fund, in exchange for permission to cut down 2,642 trees on a 33-acre tract of land on Wiseman Blvd, Stonegate Hill, in the West of San Antonio. Removing the trees required special permission, as it needed an exception to the city's Tree Preservation Ordinance.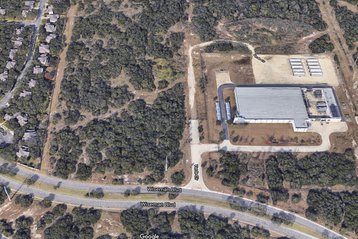 The City Council voted 8-3 to approve the exception on Thursday, affirming a 6-1 vote by the Planning Commission in December.
Trees to go
The decision was approved by residents, according to the San Antonio Report, as Microsoft's fallback plan was to build a two-story facility on a small part of the land, if it was not granted permission to fell the trees.
"Property values of the 19 homeowners immediately adjacent to the 60-foot tall monstrosity would likely plummet," Jim Eckburg, vice president of the Stonegate Hill homeowners association told the Report.
"In the end, this is not a trees-versus-business-interest story," said Councilwoman Melissa Cabello Havrda, who represents an area including the neighborhood.
The vacant spot has been in line for industrial development for years, and residents felt that a low-rise data center building would be a good option. Microsoft will plant 833 trees around the building to provide a buffer, but the trees removed from the main body of the site exceed city minimum preservation requirements.
The details are that developers are allowed to take down trees and pay into the mitigation fund, but have to leave at least 20 percent of "heritage" trees (more than 24 inches in diameter), and 20 percent of "significant" (more than 6 inches in diameter). Microsoft plans to leave only 4.5 percent of heritage trees and 3 percent of significant trees.
Microsoft's legal representative Bill Kaufman argued that the trees planted by Microsoft would be in better health than those currently on the site, and would eventually provide a better canopy.
Microsoft is particularly keen on this site as it is close to a Valero Energy data center potentially providing some redundancy. This factor and the local support, eventually persuaded enough of the council members to agree to it, although some pointed out that it broke the "spirit and intent" of the ordinance, and would result in less carbon captured by the trees in the area.
"If I had some assurance that the … carbon reduction ability of the trees can be replaced in the short term, I think I would feel differently about this," said Ana Sandoval, one of the councilors who opposed it. "But I don't have those assurances right now."
Big presence
Microsoft has a lot of activity in San Antonio. It owns office space, and 158 acres of land in the Texas Research Park, and plans to spend $1 billion building 1 million sq ft of data center space. The company currently has buildings SAT11-14 in development on the site; - three single-story buildings 225,000 sq ft each which started in 2018 and are due for completion in 2023.
The 33 acres of land around Valero Energy's data center on Wiseman Blvd were bought at the end 2020, according to Bizjournal, which also reports the purchase of a Chevron Corp data center at 5200 Rogers Road in October 2017.
AWS is also expanding into the city; with three data centers in San Antonio due to be completed by the end of 2021.