Microsoft has announced plans for a new Azure data center region in Hyderabad, India, and has opened another cloud region in China.
The Redmond company this week announced its intent to establish its latest data center region in Hyderabad, Telangana. It didn't provide precise location, specification, or timeline details.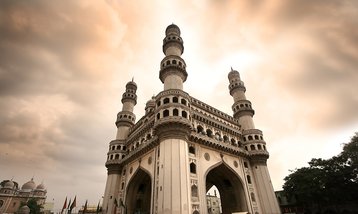 The Economic Times of India reports that Microsoft has acquired 22-acres in Mekaguda for around Rs 40 crore (~$5.1m), 41-acres in Shadnagar for Rs 164 crore (~$21.2m), and 52-acres in Chandenvelly for Rs 72 crore (~$9.3m).
Reports have been circulating that the company was looking to develop a facility in the area – where it already has a large Development Centre – since last year.
Anant Maheshwari, president of Microsoft India, said: "Cloud services are poised to play a critical role in reimagining the future of business and governance and enabling overall inclusion in the country. The new data center will augment Microsoft's cloud capabilities and capacity to support those working across the country. We are pleased to be collaborating with the Government of Telangana on this major milestone and we deeply appreciate their support."
Microsoft opened three Indian cloud regions in Pune (Central India), Chennai (South India), and Mumbai (West India) in 2015. In December 2021 it added three availability zones in the India Central region in Pune; it is the only Indian Azure region with availability zones.
Rajeev Chandrasekhar, Minister of State for Skill Development & Entrepreneurship and Electronics & Information Technology of India, said: "Today's commitment to the people and businesses of India will position the country among the world's digital leaders. A Microsoft data center region provides a competitive advantage to our digital economy and is a long-term investment in our country's potential. The cloud is transforming every industry and sector. The investment in skilling will empower India's workforce today and into the future."
Microsoft expands in China with new Azure region
The company has also announced a new Azure region in China. Microsoft said its fifth Chinese Azure region – in 'North China' – launched on March 1. As with its other Chinese facilities, the new region will be operated by Vnet (previously 21Vianet).
"We see fast-growing needs for global public cloud services in the China market, both from multi-national companies coming to China, Chinese companies seeking for global presence, and Chinese companies to digitally transform their businesses and processes on clouds—that's the strong momentum driving us to keep expanding and upgrading our cloud services for almost eight years here in China," said Dr. Hou Yang, Microsoft corporate VP, chairman, and CEO of Microsoft Greater China Region (GCR). "The new Azure region will further reinforce Microsoft's capabilities to enable and empower innovation, growth, and discover opportunities across the business, ecosystem, and a future with sustainability."
Along with the new region, Microsoft said it will be launching availability zones within its Chinese regions in 2022, along with Digital Twins, Arc, and MySQL services.
Microsoft's Hong Kong/East Asia region launched in 2010. The company launched its first facility in mainland China in 2014 in partnership with Vnet (previously 21Vianet). It launched new availability zones in its Hong Kong cloud region in November 2021, having announced a new Azure region in Hebei the previous March.
Last year Bloomberg reported that the company was planning to open four new data centers in China in 'early 2022.'