Microsoft has promised to adjust terms for its cloud computing service in order to head off a full antitrust investigation by the EU.
This week, Microsoft president Brad Smith has said the software giant is making changes to its cloud licensing terms, in a bid to head off an investigation by the EU over claims from rival cloud providers that Microsoft was unfairly favoring its Azure cloud by charging users differently for access to the Office products, depending on whether they were running the software on Microsoft's Azure cloud, or on rival platforms.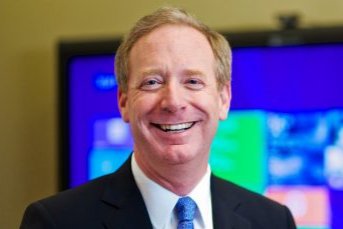 The campaign against Microsoft's cloud pricing was first revealed by French provider OVHcloud.
Learning from past probes
Two decades ago, Microsoft fought back against criticism of the way it bundled products including media players and web browsers with its monopoly Windows platform. This time round, Smith responded diplomatically and with a visit to Brussels, and a fulsome 4,000-word blog post, titled "Microsoft responds to European Cloud Provider feedback with new programs and principles".
"While not all of these claims are valid, some of them are, and we'll absolutely make changes soon to address them" Smith promised when the complaint came to light In this week's epic response, he promised: "As a major technology provider, we recognize our responsibility to support a healthy competitive environment and the role that trusted local providers play in meeting customers' technology needs. We thought it was important to start taking meaningful action within weeks, rather than months or years, and we set a goal internally to do so by today."
CISPE, an Amazon-backed group of European cloud providers, had demanded that Microsoft endorse a proposed set of "Fair Software Licensing" principles created by CISPE and French business group Cigref.
These 10 principles include demands that customers should be free to bring their own, previously bought software, including on-premises software onto a public cloud, and clouds should avoid lock-in.
In response, Smith has promised Microsoft will be more responsive to Europe, aiming to "forge closer partnerships" with European cloud providers, and setting up a new support team for them.
When it comes to CISPE's 10 principles, Smith sidesteps some of the specific promises on moving software and reusing licences, saying: "Several of the Fair Software Licensing Principles relate to how customers can move their licenses to the cloud, leverage shared hardware, and have more flexibility in deployment options for the software they purchase. In support of that, we will revise and expand our Software Assurance program, in which customers purchase new version rights, disaster recovery, failover support, license mobility, and many other benefits."
However, the nub of the matter has been that in 2019, Microsoft began to charge extra if companies ran their Microsoft products on rival clouds instead of on Azure. Smith explicitly offers to loosen this up: "Today, Software Assurance benefits do not include license mobility rights for products such as Windows, Office, or Windows Server, so customers must use that software in more restrictive programs or on hardware dedicated specifically to those customers. We will expand Software Assurance to enable customers to use their licenses on any European Cloud Provider delivering services in their own data centers, similarly to how they can do so on Azure today, whether the hardware is dedicated or multi-tenant. We will then partner more closely with European cloud hosters so we can make this support experience more seamless for customers."
Instead of fully endorsing the CISPE principles, however, Smith presents a different set of five "European Cloud Principles"
We will ensure our public cloud meets Europe's needs and supports Europe's values.
We will ensure our cloud provides a platform for the success of European software developers.
We will partner with and support European Cloud Providers.
We will provide cloud offerings that meet European government sovereign needs in partnership with local trusted technology providers.
We recognize that European governments are regulating technology and we will adapt to and support these efforts.
Caught in the crossfire?
Smith said he had direct feedback from two European cloud CEOs: "Some of the most compelling feedback for me personally came from a CEO who said that he felt that he 'was a victim of friendly fire in Microsoft's competition with Amazon'. It was hard to hear this – but he was right. Over the past few years, our focus on competing with the largest technology providers has resulted in us not being as attentive to the impact on our cloud provider partners. We are making changes to remedy this, beginning today."
In response, Smith presents a graph from the FT, which suggests that Microsoft with 20 percent share is catching up with AWS, which has a 33 percent share of cloud. Given that, Microsoft is apparently prepared to relax its competitive stance where that impacts smaller providers.
According to the Financial Times Smith says Microsoft has learnt from previous antitrust probes. Asked if Microsoft was scarred by those probes, he said: "Yes, but stronger because of it or at least better because of it....your scars make you older and wiser".
More in Cloud & Hyperscale