Idaho Power and Micron Technology, a company that develops memory and storage solutions, have announced plans to construct a 40MW solar energy project.
The solar plant development will be located close to Micron's corporate headquarters in Boise, Idaho, and is intended to power the tech-giants operations, contributing to the company's goal to be powered by 100 percent renewable energy by 2025.
As part of the contract, Idaho Power has asked the Idaho Public Utilities Commission (IPUC) to approve a power purchase agreement with Black Mesa Energy, LLC, a subsidiary of renewable energy developer MB Mezzdev LLC, to develop a dedicated solar facility for Micron's renewable energy use.
Further details about the development have not yet been confirmed.
Micron executive vice president of global operations, Manish Bhatia, said of the project: "Micron is taking a step toward our goal of reaching 100 percent renewable energy in the U.S. in 2025 by supporting solar development in our home state.
"This highlights our commitments to both our communities and the environment. We're pleased to partner with Idaho Power and bring our efforts one step closer to meeting our sustainability goals."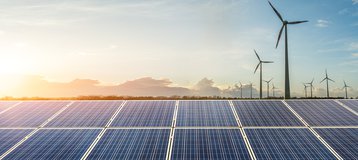 "This agreement with Micron is an example of the innovative thinking that will be required as we all move toward a clean energy future," said Lisa Grow, Idaho Power President, and CEO.
Idaho Power also has the goal of becoming 100 percent renewable, though with a slightly less ambitious deadline of 2045. This project is part of the power company's Clean Energy Your Way program, which enables large customers to partner with Idaho Power and build renewable energy projects.
This is the same program that Meta will be using for its Kuna data center, though details surrounding the form of renewable energy have not been confirmed.
Micron has also made other moves in the Boise area towards green projects.
Semi-conductor manufacturing is a very water-intensive process. In 2021, Micron was a large donor to the City of Boise's bond to build a new water recycling component. The intention of which is to take water from industrial users, clean it and return it to the facility in a closed-loop system.
The Micron facility to be powered by the solar project is currently used primarily for research and development but is allegedly in the running for a semiconductor fabrication facility.