American memory specialist Micron has become the first SSD vendor to ship QLC-based flash to customers.
The new Micron 5210 Ion storage drives in 2.5-inch form-factor are already being sold to select partners and are due to reach general availability in the second half of 2018.
QLC flash offers high performance, high capacity and low cost for specific workloads that have few writes, but many reads, like NoSQL databases, data analytics and machine learning.
According to Micron, the technology could replace 'nearline' capacity-optimized 7,200 RPM hard drives in read-intensive applications.
"It's about pushing flash into corners of the data center where it hasn't gone to date," Nic Maigne, senior partner management manager at Micron, told DCD.
New kid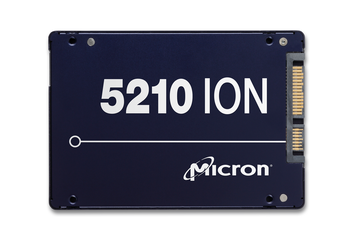 QLC, or Quad-Level Cell flash memory, stores four bits of information per cell, and can support around 1,000 writes during its lifetime. cThis technology increases flash density, allowing for larger capacity drives, but there are tradeoffs in write speed and longevity.
The new SATA SSDs from Micron are based on 64-layer 3D NAND chips and offer capacities of up to 7.68TB - for comparison, 2.5-inch drives based on spinning disk technology currently max out at about 2TB.
Ion SSDs also use less power than their spinning disk counterparts.
The hardware has been borrowed from the 5200 product line, but the firmware has been re-architected to manage the new flash variety.
The properties of QLC NAND make it suitable for specific use cases, where the need for performance outweighs the need for endurance – i.e. workloads that repeatedly manipulate the same dataset, without rewriting information stored in memory cells.
The drives are also fully compatible with compression and deduplication algorithms that can considerably boost flash capacity.