Metta DC, a new Indonesian data center company, has launched its first facility in Jakarta.
Located on a 1.8-hectare site in the Jababeka Industrial Estate in West Java, the three-story, 35MW ID01 facility has capacity for up to 3,000 racks. With 10,000 sqm (107,600 sq ft) of white space across six data halls at full build-out, phase one of the facility reportedly offers 10MW.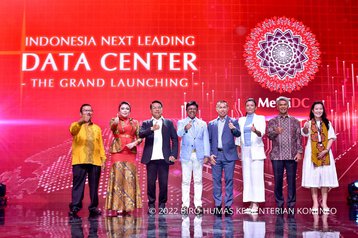 Metta DC president director Sukoco Halim said the company is targeting to develop 500MW of capacity over the next five years, with several more facilities planned in Indonesia including Batam and Nusantara.
"MettaDC is here to provide adequate digital infrastructure both nationally and globally," he said. "We will build it gradually and God willing, in the near future, at the end of this year we will launch MettaDC ID02 located in the center of Jakarta."
At the inauguration event, Minister of Communication and Information, Johnny G. Plate, said that the Indonesian government was also building a facility in Jabodetabek.
"The first Tier IV government cloud data center is in Jabodetabek which hopefully will lay the first stone in early November. This Tier IVData Center is for the government's needs," said the Minister. He added that three other data center locations will be built in Batam, the New Capital of the State (IKN), Nusantara, and Labuan Bajo.
Metta DC is a new company seemingly formed this year. Sukoco Halim was previously head of Harrisma Data Citta, a subsidiary of Indonesian internet service provider Inet Global Indo which broke ground on a 3,000-rack facility on the Jababeka estate last year. Harrisma is likely the predecessor company of Metta, with Harrisma's site now redirecting to Metta's.
State-owned finance company Indonesia Infrastructure Finance (IIF) provided an IDR 629.8 billion ($40.4m) loan facility to Harrisma for the development. Further financing for phases 2 and 3 were being sought at the time of the groundbreaking.