Commercial real estate investment firm Metro Edge Development Partners is planning a new data center in Chicago, Illinois.
The company this month announced that it has executed a 75-year ground lease on a 1.97-acre parcel in the Illinois Medical District (IMD) that includes exclusivity to build and operate a high-performance data center.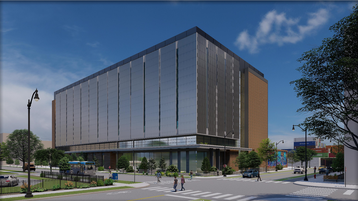 Metro Edge has begun planning and permitting for a 21MW, five-story data center comprising approximately 191,000 square feet (17,750 sqm).
Construction will commence in 2022 with delivery in early 2024. The company said it will be a healthcare-anchored facility, and it is fielding 'numerous pre-leasing requests' from firms.
"Metro Edge was founded with the intention of building data centers in underserved urban locations," said Craig Huffman, CEO of Metro Edge. "These infill locations are typically overlooked by traditional institutional owners but offer a unique opportunity to facilitate meaningful change in a community with a thoughtful, integrated development."
"The Illinois Medical District offers a unique ecosystem of knowledge, collaboration, and resources, plus the opportunity to impact the world's next great healthcare innovation district," said Allyson Hansen, Executive Director at the IMD. Together with Metro Edge, we will reshape the technology profile of the district and offer the local community access to connectivity and career opportunities that will make us competitive with other areas of Chicago."
Metro Edge was founded in 2020 and targets data centers, life sciences, and technology-oriented developments in primary urban locations around the country. This is seemingly its first data center project and is partnering with T5 and CBRE. CEO Huffman was previously co-founder at private equity real estate investment manager Ascendance Partners and co-founder of Cradle Real Estate Group before that.
More in Construction & Site Selection