Meta claims that it has redesigned its data centers to be cheaper and faster to build, as part of a wider cost-cutting drive.
Late last year, DCD exclusively reported that Meta was canceling or pausing data centers around the world and reworking the designs for more artificial intelligence workloads.
The company, formerly known as Facebook, killed off its Danish data center expansion, and paused projects in Texas, Alabama, and Idaho. DCD understands that more projects are at risk.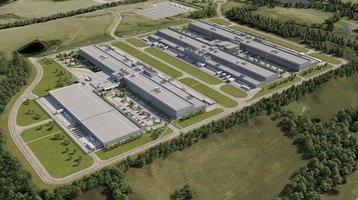 Prior to the sudden pivot, Meta claimed that data center spend would be unaffected by wider cutbacks it was enacting as its core business came under attack, its metaverse efforts floundered, and the global economy weekend.
But in its latest earnings report, Meta provided more details about the financial impact of the new designs.
Cost of revenue for the last quarter grew 31 percent due to "the write-down of certain data center assets," Meta's CFO Susan Li said. For the quarter, the company spend $9.2 billion on capex, "driven by investments in servers, data centers, and network infrastructure."
But it now forecasts a lower capex spend, after previously saying it would not change. Instead of spending $34-37bn, it now expects capex (on everything, not just data centers) to be in the range of $30-33bn.
"The reduced outlook reflects our updated plans for lower data center construction spend in 2023 as we shift to a new data center architecture that is more cost-efficient and can support both AI and non-AI workloads," Li said.
"And that's going to give us more optionality as we better understand our demand for AI over time," Li said. "Additionally, we're expecting that the new design will be cheaper and faster to build than previous data center architecture."
The company was still vague about the new designs, and it is not clear how much cost savings come from the designs themselves, rather than just a reduced data center footprint.
Li explained that the company is optimizing how it approaches building data centers, to have "a new phased approach that allows us to build base plans with less initial capacity and less initial capital outlay, but then flex up future capacity quickly if needed."
That suggests that the company will build somewhat modularly, growing at a slower pace than its current approach - which saw it develop huge campuses featuring massive data halls.
In the wider earnings call, Meta CEO Mark Zuckerberg promised a "year of efficiency," that would include culling unsuccessful products and removing layers of middle management. He also announced $40bn in stock buybacks.
Shares in the company, which plummeted 64 percent in 2022, jumped 20 percent on the news.
But the company does not plan to make cuts to its Reality Labs division, home to its metaverse, AR, and VR efforts. The division lost $13bn in 2022.