Bangladesh's Meghna Bank has migrated to a new Huawei modular data center in Dhaka.
The bank last week announced that it has launched a Tier III Ready Data Center facility in its head office at Gulshan-01 in the capital city.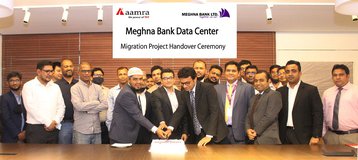 The bank acquired a Fusion Module-2000 solution from Huawei Technologies, with Aamra Networks limited working as a solution partner, and DCiCON providing consultancy on the project.
Specifications weren't shared. The Fusion Module is a modular data center solution available as a single row of 24 cabinets or as a dual row configuration with 48 cabinets.
DMD & CIO of Meghna Bank Shyamol B. Das was present during the project handover ceremony on March 22 along with other Meghna executives. Officials from Aamra Networks, DCiCON, and Huawei were also present.
There is limited data center infrastructure in Bangladesh and none of the global companies have a presence there. A handful of local operators such as Xeonbd, Gotipath, and Dhakacolo operate facilities in the country, mostly in Dhaka. Felicity IDC, Red.Digital, and banking firm bKash have all achieved Tier III certification from Uptime.
The Bangladeshi government has developed a Tier IV national data center at Bangabandhu Hi-Tech Park in Kaliakair. The first National Data Center was inaugurated in 2010 by Bangladesh Computer Council (BCC) in Dhaka.
More in Construction & Site Selection