AFR-IX is to land its upcoming Medusa cable system at an Orange cable landing station (CLS) in Marseille, France.
Medusa will be the longest submarine cable system in the Mediterranean Sea and will connect nine countries in North Africa and Southern Europe by 2024 and 2025.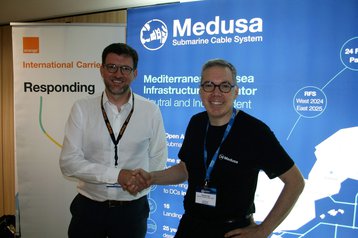 Announced in January 2022, AFR-IX-owned cable will connect Lisbon and Sines, Portugal to Port Said, Egypt with additional landings in Barcelona, Torreguadiaro, Zahara, and Alacant in Spain; Tétouan and Nador in Morocco; Bizerte in Tunisia; Algiers and Collo in Algeria; Marseille in France; Mazara del Vallo in Italy; Yeroskipou in Cyprus; and Tympaki in Greece.
The 8700km system will consist of 24 fiber pairs and offer 480Tbps (20Tbs per fiber pair); AFR-IX has said the project will require €326 million ($374m) and will be partially financed by the European Investment Bank for a contribution of €163 million ($186.5m).
The companies said Orange was the "only operator" to have scalable infrastructure in the area of Marseille as well as the technical expertise required to land and maintain intercontinental submarine cable systems.
Orange said it is strengthening its submarine cable access strategy in Marseille with brand new urban infrastructure; route and meshing will reportedly increase the resilience and diversity of access and landing points in Marseille by connecting all the city's data centers.
"We are particularly pleased to welcome the Medusa cable to Orange's infrastructure in the heart of the Mediterranean hub of Marseille, as part of a strategic and ambitious project. By combining our submarine cable landing stations with our new urban infrastructure, we are strengthening Marseilles' attractiveness as a digital gateway to Europe, and beyond that, France's sovereignty," said Michaël Trabbia, interim CEO of Orange Wholesale & International Networks.
Norman Albi, CEO of Medusa, added: "Marseille has always been a strategic Mediterranean interconnection point, and joining forces with Orange means we can offer a cutting-edge service, against a background of growing needs in the digital economy. With this agreement, all Medusa landings in the western Mediterranean are totally secure and ready to be implemented."
AFR-IX's new Barcelona Cable Landing Station is set to be the landing station in Barcelona; the facility is the landing point for the Meta-led 2Africa cable.
Orange has a cable landing station in Marseille in Bonneveine that hosts the India-Middle East-Western Europe (IMEWE) cable. That cable entered service in 2010. Marseille is a landing point for more than a dozen existing and in-development cables, including 2Africa, Africa-1, the PEACE cable, and SeaMeWe-4.
Update: Orange Tunisia and Medusa Submarine Cable System announced a deal on May 11 to land the Medusa cable in Tunisia at Bizerte.