Marathon Digital has $31.3 million invested in Compute North, a data center provider which declared bankruptcy in September.
Marathon hosts bitcoin mining rigs at Compute North and has invested $10 million in stock, along with $21.3 million in an unsecured senior promissory note, in different entities within Compute North, which went into Chapter 11 bankruptcy in September, when one of its main backers, Generate Capital, withdrew funding.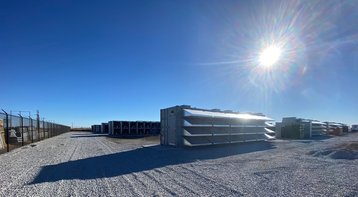 Marathon, and other Compute North customers, issued statements saying their operations would continue while Compute North operates under Chapter 11 conditions.
As well as its $31.3m investment, Marathon also has paid Compute North about $50 million in security deposits and prepayment, according to Coindesk.
Founded in 2017, Compute North operates four US data centers; two in Texas in McCamey (280MW) and Big Spring, and one each in Kearney, Nebraska (100MW), and North Sioux City, South Dakota (7MW). A third 300MW facility was in development in Granbury, Texas. The company's assets are worth between $100 million and $500 million, according to its Chapter 11 petition.
One of the world's largest bitcoin miners, Marathon does not own its own data centers, but keeps its equipment in third-party providers. Most of its equipment is in McCamey Texas, where Compute North runs a joint facility with NextEra, at the King Mountain wind farm.
Other Marathon equipment is at Compute North's 300MW plant in Wolf Hollow, Texas, and in sites in Nebraska and South Dakota.
Marathon says the King Mountain and Wolf Hollow sites aren't directly subject to Compute North's bankruptcy process: the Wolf Hollow site is now reportedly under the control of Generate Capital, the funder which withdrew support for Compute North, apparently pushing it into bankruptcy.