Malaysian communications satellite operator Measat is retiring and de-orbiting one of its communication & broadcast satellites after an anomaly first detected in June couldn't be fully rectified.
The Boeing-made MEASAT-3 Geostationary satellite will be retired and a replacement will be launched next year. Services will be moved to other satellites in the region operated by both Measat and other companies.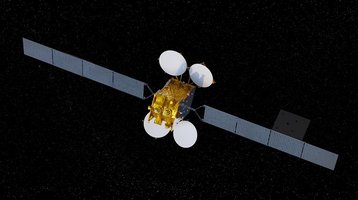 Measat first detected an anomaly on 21 June that caused the satellite to drift out of position, and announced the problem was resolved and the satellite was back under control on June 24. The company shortly followed up saying "intermittent service degradation" meant further satellite and signal stabilization processes were required.
In July the company said that while it had maintained continuous telemetry and command control of the satellite, its transponders had been deactivated to prevent interference with other satellites while it worked with Boeing to investigate the issue. At the time "almost all" customer services on MEASAT-3 had been restored onto backup satellite capacity on other MEASAT satellites [1, 2, 3a, and 3b] and third-party satellites serving the region.
"The incident resulted in a complete outage of service and is still under investigation," the company said in a statement. "Despite maintaining continuous telemetry and command control of MEASAT-3, further testing and recovery efforts found that the satellite could not re-enter service."
MEASAT-3, a Boeing 601 satellite, had provided satellite communication services for almost 15 years since its launch in December 2006. MEASAT-3 operated alongside the now-decommissioned Hughes/Boeing-built MEASAT-1 and MEASAT-2 spacecraft in the Malaysia-East Asia Satellite (MEASAT) system.
MEASAT-3a was built by Orbital Sciences Corporation in 2009.
Airbus was commissioned in 2019 to develop the original MEASAT-3's replacement satellite, MEASAT-3d, which is due to launch in early 2022. The defense firm also built MEASAT-3b.
There is no official MEASAT-3c, with the company instead leasing capacity from NewSat's Jabiru 1 satellite under that designation.