Europe's most powerful supercomputer has officially launched.
The $211 million (€202m) LUMI supercomputer is set in a former paper mill in Kajaani, Finland, and co-funded by the EU-backed European High-Performance Computing Joint Undertaking (EuroHPC JU) initiative.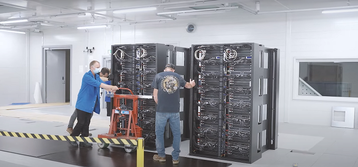 The HPE Cray EX supercomputer is currently capable of 152 sustained petaflops (Linpack), but that is expected to grow to more than 375 in the coming weeks - and a peak performance potentially above 550 petaflops.
Based on the same architecture as the Frontier exascale supercomputer, LUMI is a 4,112-node system with AMD Epyc "Trento" CPUs and AMD MI250X GPUs.
LUMI ranks third in both the most recent Top500 and Green500 lists of most powerful and most energy-efficient supercomputers. It is the leader in Europe on both fronts.
The system at the CSC – IT Center for Science data center is powered using only renewable energy, using natural cooling systems, and re-using its waste heat to supply up to 20 percent of local district heating.
"LUMI is now the fastest and most energy-efficient supercomputer in Europe, and one of the most powerful ones in the world," Margrethe Vestager, executive vice-president of the European Commission, said.
"Thanks to its massive computing capacity, LUMI will enable scientific breakthroughs in for instance medicine and climate research at a much faster pace. It could be in the development of vaccines, diagnosis of cancer, or mitigation of the effects of climate change. This is a great example of the enormous potential of artificial intelligence to improve our lives."
LUMI is part of the EuroHPC effort to build eight supercomputer centers across the European Union, five of which are petascale systems and three of which are pre-exascale.
Five of the systems are currently operational, including LUMI. Along with it is Vega, in Slovenia; MeluXina, in Luxembourg; Karolina, in Czechia; and Discoverer, in Bulgaria.