Los Alamos National Laboratory (LANL) has installed the first phase of its new Crossroads supercomputer.
Known as Tycho, the lab described the new machine as a 'stepping-stone' to the full Crossroads, which will replace the 20 petaflops Trinity system as the Laboratory's primary supercomputer in the coming year and will support next-generation weapons simulations.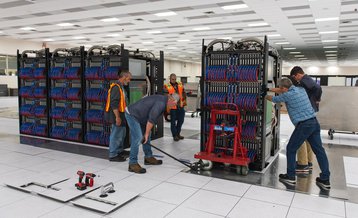 "We're excited to be entering this new phase of supercomputing at the Lab," said Los Alamos' HPC Platforms Program Director Jim Lujan. "Early benchmarks indicate a four-times increase in speed over Trinity. All of the new efficiencies that are part of Tycho, and ultimately Crossroads, come together to reduce that crucial time to insight. Improving efficiencies in many areas for modeling and simulation is what this project is all about."
Crossroads will be a HPE system based on the HPE Cray EX supercomputer and support maintenance and modernization of the US nuclear stockpile, as well as other nuclear security missions.
Tycho consists of 2,600 nodes based on Sapphire Rapids processors and entirely solid-state drives for its filesystem. Tycho is named after a spacecraft from the popular sci-fi book series and TV show The Expanse and will be accompanied by Rocinante and Razorback in the future.
The system is the first (public) large-scale deployment of Intel's delayed Sapphire Rapids CPUs.
In the coming months, the Crossroads team will work to stabilize Tycho, calibrating the system's 2,600 Sapphire Rapids nodes for maximum efficiency. Software will be installed and functionality testing will take place — all in time to ensure Tycho's early use in the classified environment by the end of the year and full production status in March 2023.
LANL put out an RFP for Crossroads in 2019, and selected HPE a year later. The exact performance of Crossroads was not disclosed, although four times the performance of Trinity would give it a rough benchmark of 165 petaflops at peak double precision.