US weapons manufacturer Lockheed Martin has been awarded a contract to modernize an F-35 data center at Eglin Air Force Base in Florida.
The $213.3 million contract with the US Navy will last five years.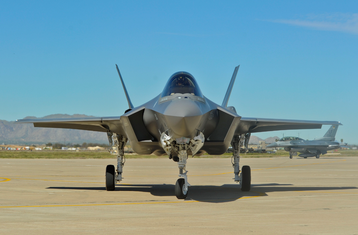 The largest and most expensive military project in history, the F-35 Lightning II is expected to cost more than $1.5 trillion over its lifetime, after multiple delays and project overruns.
Each plane carries an array of sensors and electronic warfare components, which require airborne, surface, and ground-based platforms to assist with data storage and processing - including data centers at the air force bases they operate from.
The size of the Eglin facility was not disclosed, but the US Air Force in 2019 deployed a data center at a UK base that did include specifications. The Lakenheath data center includes 150 racks across 5,450 square foot (506 sqm).
The Elgin facility is likely larger, with a brief project note by Fisher Engineering disclosing that a 2015 modernization of the F-35 data center "involved approximately 11,950 square feet (1,110 sqm) of alterations and an 11,837-square foot (1,100 sqm) addition," with $13.5 million in construction costs.
The Eglin data center may be somewhat pre-fabricated, with the contract noting that 35 percent of the work is expected to be performed at a Lockheed facility in Fort Worth, Texas.
The contract also says that Lockheed will establish a production and test line for mission data in support of Australian and British F-35 planes.
The US Air Force has currently grounded its fleet of F-35 jets due to faulty ejector seats.