Almost eleven months to the day since first taking to the streets in support for Apple's planned data center in Galway, Ireland, several hundred local residents once again joined the ranks of the 'Athenry for Apple' group to endorse the project, which has been stalled repeatedly for over a year. 
The final decision on the €850m ($998m), 263,000 sq ft (24,000 sq m) development is due on October 12th. The project was initially approved by An Bord Pleanála in 2015, but was delayed after two residents lodged appeals against the planning permission, citing concerns about how much energy the facility would use, its impact on the environment and the fact that it was unlikely to provide much employment for the area.
Don't leave me hanging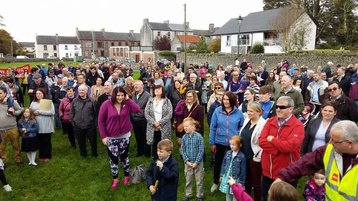 The judicial review was fast-tracked, with Apple stating it hoped to obtain a clear answer within six months, compared to the eighteen months it would have taken otherwise. However, the decision was delayed twice, first because of a shortage of judges and then for the Irish High Court's summer recess.
Locals joined the march to express their frustration with the fact that the project has been suffering so many setbacks, despite a withering local economy and few employment opportunities. 
Athenry for Apple campaigner Paul Keane told the Irish Independent that the group has "no problem with a judge making a judgment on this," and that "objectors are fundamental to the planning process" but that the delays raise wider concerns about the country's planning system, which he states is flawed in that it allows for major projects to be put off indefinitely. 
"Ireland and the West of Ireland are crying out for investment like this. But the feedback we are getting from oversea investment companies is that they feel we are against this development. That is not the case," Keane said.