LinkedIn has opened a start-of the-art data center in Hillsboro, Oregon. Known internally as LOR1, it consists of two buildings located on a campus managed by Infomart.
The facility offers 8MW of power capacity, cabinet-level cooling and a new network topology that relies on 100G connectivity. It has been awarded the Efficient IT (EIT) Stamp of Approval by the Uptime Institute, and is intended to serve as a template for future LinkedIn data centers.
Earlier this year, Microsoft announced plans to acquire LinkedIn for $26.2 billion, but the deal is yet to pass regulatory scrutiny.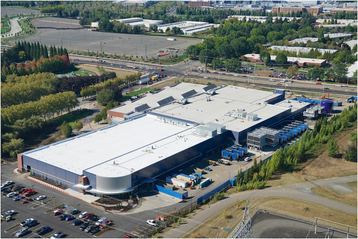 New beginning

LinkedIn operates two data centers in the US, in Virginia and Texas, and one abroad in Singapore, but its data center capacity needs keep growing. The facility in Hillsboro is meant to serve as a test bed for Project Altair, a new hyperscale approach to infrastructure.
The campus near Portland consists of two buildings and four data halls, featuring chilled door cooling developed by MotivAir that adjusts to the variable heat load, and 400-volt power distribution.
The facility has deployed just one type of network switch – the 'Pigeon', which was developed by LinkedIn engineers in-house. The entire network has been designed to use IPv6 protocol from day one.
"The advanced water side economizer cooling system communicates with outside air sensors to utilize Oregon's naturally cool temperatures, instead of using energy to create cool air. Incorporating efficient technologies such as these enables our operations to run a PUE (Power Usage Effectiveness) of 1.06 during full economization mode," explained Michael Yamaguchi, director of data center engineering at LinkedIn.
The site enjoys access to a source of hydroelectric power, with plans to eventually supply the facility with 100 percent renewable energy.
Obtaining the Efficient IT badge means the Uptime Institute has evaluated enterprise leadership, operations, and computing infrastructure of the data center.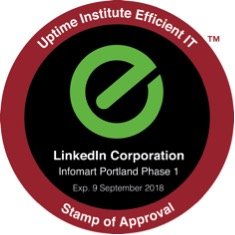 "Our newest data center is a big step forward, allowing us to adopt a hyperscale architecture while being even more efficient about how we consume resources," said Sonu Nayyar, VP of Production Operations and IT at LinkedIn. "We look forward to improving how we source energy and ultimately reaching our goal of 100 percent renewable energy."
"Efficiency and sustainability are achieved through superior control of resources, not sacrificing performance or availability," added John Sheputis, President of Infomart Data Centers. "We are proud to play a supporting role and view this award as further evidence of Infomart's long-term commitment to working with customers to create the most sustainable IT operations in the world.
Oregon has emerged as an attractive data center location thanks to the absence of sales tax and generous local property tax breaks, something that has helped lure Google, Facebook, Amazon and Apple to the state.