A $600 million data center project in Lincoln, Nebraska that seemed to be stalled has gained approval from Lincoln City Council on Monday.
The city council has annexed more than 570 acres of farmland north of Interstate 80, and approved zoning changes so a data center can be built there. The project was first proposed in July by Agate LLC, a shell company representing a larger client who has made efforts to keep its identity concealed.
Who is Agate?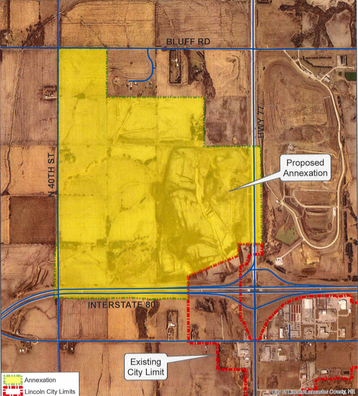 According to local planning documents, the land will be converted into a data center with a maximum floor space of two million square feet.(180,000 sq m). The land in question bounded by N. 40th Street, Highway 77, Interstate 80 and Bluff Road.
"Development in the first phase would primarily be located in the east portion of the property based on the site plan and infrastructure availability," said the council document. "Several waivers are requested to facilitate development of the site to suit the user's needs including waivers to building height and fence regulations as well as waiver of certain screening requirements."
Officials with Project Agate told the state the business may invest as much as $600 million in the data center, which may employ up to 1,000 people within 20 years. However, an Agate LLC official who attended Monday's meeting declined to specify when further details would be announced.
"This is the type of project that we as a city very often hope for or plan for but don't always get," said County-City Planning Director David Cary, according to the Lincoln Star Journal.
Minutes of the council meeting on 26 August show that the annexation and zoning move was approved on a 5-0 vote.
The corporate entity behind Agate is not known, but one potential company is Google, which regularly spends $600m on its data centers, and often uses other companies to obscure its identity.
Earlier this year, Google said that it will invest $13 billion in data centers across the US during 2019, including Nebraska.
So far the tech giant has announced a Texas data center and broken ground on a 750,000 square foot facility in Henderson, Nevada which is expected to come online in 2020.