Lenovo has opened its first European in-house manufacturing facility in Üllő, Hungary.
The factory will mostly build server infrastructure, storage systems, and high-end PC workstations for customers in the EMEA region.
The factory was originally planned to be constructed and opened in Spring 2021 but was delayed by the pandemic.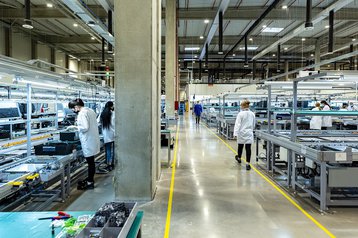 Powered by fitted solar panels with a capacity of 0.5MW, the factory covers almost 50,000 sqm (16,400 sq ft) across two buildings and three floors and is capable of building 1,000 servers and 4,000 workstations per day.
The solar power, combined with new manufacturing processes, such as a patented low-temperature solder process, will contribute toward achieving climate goals, Lenovo claims.
The facility is also employing automation in its building management system to monitor temperature, humidity, asset conditions, and DIMM robotic labeling.
Already employing over 1,000 full-time staff in engineering, management, and operational roles, the site is bringing new jobs to the area and increasing the nation's production capacity.
According to a press release, Hungary was selected for its 'strong infrastructure', 'skilled labor', and its location in the center of Europe. Additionally, local government incentives through the Hungarian Investment Promotion Agency have supported Lenovo's investment.
Francois Bornibus, Senior Vice President and EMEA President, at Lenovo, said: "With our manufacturing facility in Hungary officially open, we've reached a profound milestone in our global manufacturing network optimization and evolution. Hungary's well-connected location puts us much closer to our European customers so that we can fulfill and sustain their needs while remaining at the forefront of innovation.
Róbert Ésik, CEO of the Hungarian Investment Promotion Agency (HIPA), added: "We are delighted that Lenovo, an industry leader with a long-established history in global manufacturing, has chosen to cooperate with us and locate its new facility in Hungary. With the site now officially open, we expect to see new collaboration opportunities for local suppliers to contribute towards Hungary's prosperous economic environment."