The Leibniz Supercomputing Centre (LRZ) in Germany plans to deploy a new supercomputer featuring the HPE Superdome Flex server and the Cerebras CS-2 system.
The CS-2 includes the Wafer Scale Engine 2, the world's largest semiconductor. A huge chip boasting 2.6 trillion transistors, it has 850,000 'AI optimized' cores, 40GB of on-chip SRAM memory, 20 petabytes of memory bandwidth, and 220 petabits of aggregate fabric bandwidth.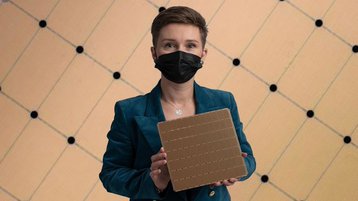 The new system, expected for delivery this summer, is funded by the Free State of Bavaria through the Hightech Agenda.
"Currently, we observe that AI compute demand is doubling every three to four months with our users. With the high integration of processors, memory and on-board networks on a single chip, Cerebras enables high performance and speed. This promises significantly more efficiency in data processing and thus faster breakthrough of scientific findings," Prof. Dr. Dieter Kranzlmüller, director of the LRZ, said.
"As an academic computing and national supercomputing center, we provide researchers with advanced and reliable IT services for their science. To ensure optimal use of the system, we will work closely with our users and our partners Cerebras and HPE to identify ideal use cases in the community and to help achieve groundbreaking results."
Andrew Feldman, CEO and co-founder of Cerebras Systems, added: "We founded Cerebras to revolutionize compute. We're proud to partner with LRZ and HPE to give Bavaria's researchers access to blazing-fast AI, enabling them to try new hypotheses, train large language models and ultimately advance scientific discovery."
The deployment will be the first CS-2 system in Europe. Supercomputing institutions Argonne, Lawrence Livermore, and PSC, as well as AstraZeneca, GSK, Tokyo Electron Devices, and oil and gas businesses are known to use the system. Cerebras raised $250 million late last year at a $4bn valuation.