Cerebras Systems, the AI semiconductor startup selling the world's largest computer chip, has raised $250 million, valuing the company at $4 billion.
The company's Series F round was led by Alpha Wave Ventures, a partnership between Falcon Edge and Chimera, joining investors Altimeter, Benchmark, Coatue, Eclipse, Moore, and VY. The company previously raised $270m at a $2.4bn valuation in 2019.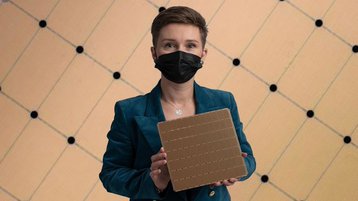 Cerebras' latest chip, the Wafer Scale Engine 2, is a huge semiconductor boasting 2.6 trillion transistors. Built on TSMC 7nm, it has 850,000 'AI optimized' cores, 40GB of on-chip SRAM memory, 20 petabytes of memory bandwidth, and 220 petabits of aggregate fabric bandwidth.
The WSE-2 chip is sold packaged in a wider system, the Cerebras CS-2, a 15U box that also includes HPE's SuperDome Flex.
The CS-2 costs a few million dollars per system, but is also available over the cloud via provider Cirrascale. Supercomputing institutions Argonne, Lawrence Livermore, and PSC, as well as AstraZeneca, GSK, Tokyo Electron Devices, and oil and gas businesses are known to use the system.
Cerebras has around 400 employees across four sites (Sunnyvale, Toronto, Tokyo, San Diego), and plans to grow that by another 200 by the end of next year.
"The Cerebras team and our extraordinary customers have achieved incredible technological breakthroughs that are transforming AI, making possible what was previously unimaginable," said Andrew Feldman, CEO and co-founder of Cerebras Systems.
"This new funding allows us to extend our global leadership to new regions, democratizing AI, and ushering in the next era of high-performance AI compute to help solve today's most urgent societal challenges – across drug discovery, climate change, and much more."