Legrand North America has launched a customizable aisle containment system that would be suitable for both traditional and experimental data center designs.
Contain-IT Flex range includes drop away panels, sliding doors and cabinet seals, and promises to lower carbon emissions and operating costs of data center owners by improving airflow above the racks and limiting recirculation.
DIY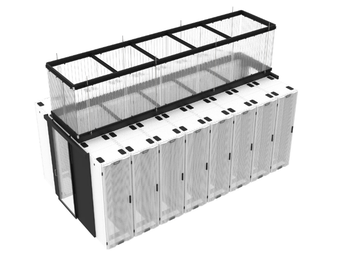 The Contain-IT Flex range is made up of pre-fabricated components that can be configured within the facility, eliminating the need for custom engineering and long lead times. It can be used to deploy hot aisle or cold aisle layouts in either horizontal or vertical configuration, and features near tool-less installation.
The system can be attached to the ceiling, cabinets or Legrand's own Cablofil wire tray. It can then support up to eight pounds of auxiliary equipment per linear foot.
According to Legrand, Contain-IT Flex scores 97.5 percent on airflow integrity - a measure of how evenly the air is being distributed through the space.
"The right aisle containment strategy can not only improve network uptime, but reduce both the operating cost and the carbon footprint of a data center, making it imperative that data center managers pick exactly the right system to deploy," said Dan Gosselin, product manager at Legrand.
"Whether the challenge is California Title 24 compliance or solving difficult applications, the Contain-IT FLEX solution offers flexibility and superior design, as well as seamless integration into the infrastructure without custom components."