Keppel Data Centres has received approval to go ahead with its plans for a floating data center park in Singapore.
Announced in a series of responses to questions prior to the company's annual general meeting, Keppel said: "We continue to make progress on our Floating Data Center Module. We have received approval from the regulatory authorities to proceed, and are currently in negotiations with the site owner for project deployment."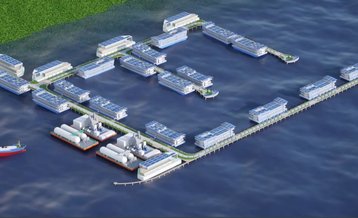 The site owner was not shared, though the site in question was previously announced to be the Loyang Offshore Supply Base operated by Toll Group. Very few updates have been made about this since.
Keppel first started exploring the idea of building its own floating data center park (FDCP) in 2019, two years after the company invested $10 million in Nautilus Data Centers, a California-based startup building floating data center facilities.
Since then, the company has slowly been working towards its FDCP, signing a Memorandum of Understanding (MoU) with Toll Group to explore the feasibility of the project and another with Royal Vopaz exploring liquified natural gas as a power source in April 2020. A third MoU was signed with City Gas and City-OG Gas Energy Services to further research into liquefied natural gas and hydrogen power for the FDCP in October 2020.
The company has furthered its goal to find a sustainable solution to powering the FDCP, and in May 2021 signed a fourth MoU with Kawasaki Heavy Industries, Linde Gas Singapore, Mitsui OSK Lines, and Vopak LNG to explore the development of supply infrastructure needed to bring liquid hydrogen into Singapore.
The FDCP is planned to have a modular design and to improve its sustainability rating further through a reduced need for treated water given its immediate access to seawater.
The company has maintained close to radio silence on the project since 2021, but there have been questions about the viability of the FDCP after the company's 2022 divestment of Keppel Offshore & Marine (KOM) which has since been restructured and combined with Sembcorp Marine.
The divestment of KOM, Keppel's oil rig builder, led to questions about whether Keppel still has the capabilities to execute projects such as the floating data centers.
The company said in an official statement: "Keppel continues to retain strong domain knowledge, and engineering and operational expertise in energy & environment, urban development, and connectivity. Beyond leveraging in-house capabilities, Keppel also works with various industry partners to execute our solutions."
Further information about the FDCP's potential partners has not been shared.