Satellite company Kepler Communications has raised $92 million in a Series C funding round.
Canadian firm Kepler aims to create an in-orbit optical network of satellites that relay information to and from spacecraft, acting as 'Internet exchange points for space-to-space data.'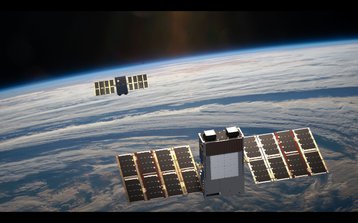 The round was led by existing investor IA Ventures, and Kepler said it will use the money to launch a 2.5Gbps optical data relay network in 2024. Optical services will be operational and available to customers by Q1 2025.
The idea is that instead of waiting to pass over a ground station, customer satellites can beam data directly to Kepler machines and then to ground stations more quickly. The ability of Kepler's satellites to relay data should mean data is always in range of a ground station.
"Exponentially decreasing launch costs make space more accessible than ever, but connectivity beyond Earth is still costly, challenging, and inconsistent," said Brad Gillespie, general partner at IA Ventures. "The Kepler Network solves this by providing a fast, open, developer-friendly network enabling 'it-just-works' connectivity between any asset in space and back to Earth - and someday to Mars and beyond! With proven customer demand for their high-speed optical network, we are excited to lead this funding round to enable Kepler to continue its rapid growth and achieve profitability."
Mina Mitry, chief executive officer for Kepler, added: "As we build out The Kepler Network, we are solving challenges the industry faces and simplifying mission communications by bringing modern Internet capabilities into space. Internet services on Earth completely transformed civilization, and we believe extending the Internet to space will have the same far-reaching impact."
Since 2016, the company has raised more than $200 million in equity, with funding from Costanoa Ventures, Canaan Partners, Tribe Capital, BDC Capital's Industrial Innovation Venture Fund, and others. It closed a $60 million Series B round in 2021.
The company plans to launch two pathfinder satellites in the second half of 2023 that will be used for testing and validating optical communication technology developed for the Kepler constellation.
The new generation of satellites builds on the company's existing M2M/IoT cubesat constellation, which will total 21 satellites after the launch of two additional spacecraft later this month.
Previously known as the Æther Network and largely reliant on the S-Band, the switch to optical technology has seen the service renamed to simply the Kepler Network.
Satellites for the company's data relay network will be an order of magnitude bigger and weigh over 100 kilograms, Kepler CEO Mitry told SpaceNews. Kepler has previously outlined plans for 140 satellites in total.
Spire Global and the European Space Agency are customers.
In other satellite news:
- Intelsat has ordered a Mission Extension Pod (MEP) from Northrop Grumman Corporation's SpaceLogistics to extend the life of one of its satellites. The 'jet pack' will attach to an unnamed Intelsat machine around 2026 and extend its life for a further six years.
In 2021 the two companies previously worked together to use an MEP to extend the lifespan of Intelsat 901 by five years. A second MEP was used on Intelsat 10-02 in 2021.
- Starlink has launched services in El Salvador and has been successfully tested in the Kalahari Desert in South Africa in partnership with local firm Quick Connect Wireless.
The connection was tested over four days in the north of South Africa close to the Botswana border and was set up in Tweerivieren, Nossob, as well as Kalahari Tent Camp areas. Starlink is yet to officially launch services in South Africa or Botswana.