Kao Data has announced plans for a second building for its Harlow campus in the UK.
The company says construction is now underway on its second 10MW facility outside London.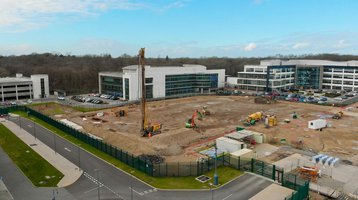 KLON-02 will offer space for almost 1,800 racks across 3,400 sqm of technical space and four data halls. The facility will be Nvidia DGX-Ready data center certified and OCP-Ready; it will offer an SLA-backed PUE of 1.2, utilize 100 percent renewable energy, and use hydrotreated vegetable oil (HVO) in its backup generators.
"The expansion of our Harlow campus is another strategic milestone in Kao Data's evolution as we continue to scale the business's high-performance data center offering across the UK and Europe," said Lee Myall, CEO, Kao Data. "With our second 10MW facility in Harlow following the launch of our 16MW data center in Slough closely, Kao Data is bringing advanced colocation capacity at industrial scale to the west and east of London."
Kao was launched in 2015, and its Harlow campus opened in 2018; the facility promises to have around 150,000 sq ft (14,000 sq m) of white space, and a total of 35MW of power across four phases. Nvidia's Cambridge-1 supercomputer sits within Kao's Harlow facility.
"KLON-02 will build on the award-winning design and build principles of our KLON-01 facility, offering greater efficiencies for our customers' colocation environments," added Paul Finch, COO, Kao Data. "It's exciting to be able to continue to innovate within our construction, engineering, and technical principles, and I am confident our second facility at Harlow will raise the bar again for sustainable, energy-efficient data centers."
In October 2021, Infratil Limited announced it would invest up to £120-130 million ($163-177m) in Kao and take a 40 percent stake in the company alongside Legal & General Group and Noé group's Goldacre.
The company also acquired two UK data centers with a long-term anchor lease from a large financial services business, though it never detailed their location. JLL later said it advised Kao on the £100 million ($135m) sale and leaseback of two data centers in west London; the company said the two facilities total 300,000 sq ft (27,800 sqm).
The company opened a 16MW data center in Slough in February.