Japan's NTT Ltd. is building a data center in Dagenham, East London.
DCD visited the site last week, where out of a muddy site reminiscent of a WW1 battlefield the completed exterior of the new "London 1" now stands tall, painted in several shades of green.
Big boy
When completed, London 1 will cover 54,000 sq m (580,000 sq ft) and be located in the LondonEast-UK business park, it will be approximately 20km (12 miles) from the city center and 16km (10 miles) from the London Internet Exchange (LINX). Once fully built out, the new campus will offer 25,600 sq m (275,000 sq ft) of IT space and more than 60MW of IT load.
The data center features spaces for both traditional retail and wholesale clients across multiple segments of the building. Developed in phases, London 1 is separated into four halls which will be filled in phases as clients move into the structure. The work on equipment and systems will be gradually installed as demand grows.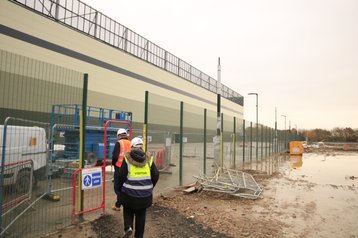 John Eland, chief strategy officer for the Global Data Centers division at NTT Ltd., discussed the new build in an office on location. The Japanese telco was shy when it came to giving a ballpark figure on how much the company has invested into the site, he said: "I think people can draw the wrong conclusions from the size of the scheme. You can draw a number from the wattage of a data center."
Local authorities from the London Borough of Barking and Dagenham have estimated project costs could accrue to about £1.5bn.
Green light
NTT Ltd. was given permission to build London 1 back in 2018, Council leader Darren Rodwell said then that "data centers will mean Barking and Dagenham will be able to power London's digital-led economy well into the 21st century.
"These developments will bring thousands of jobs for local people at all levels - from construction workers and carpenters to set designers and film and TV producers. It's another sign that [the borough of] Barking and Dagenham is booming."
Untapped potential
NTT Ltd. was drawn to the location because of the potential benefits of the site. Eland said London city had become "saturated" by colos and by moving out to the peripheral area of Dagenham, it could establish itself with local authorities' projects to economically regenerate East London. Should the area grow richer and businesses relocate there, Eland suspects a local data center the size of London 1 would be a boon.
He said: "Our centers in Slough are 35 kilometers from LINX, this is 16km. So this made a lot of sense. Here there is power and land capacity.
"The new data center will be a cornerstone of our growing global data center platform. This is just the end of the first construction phase, and we have an exciting few months ahead as we fit out the core of the data center and our clients bring their workloads online."
London 1 will also join up to NTT Ltd's five other data centers in Slough and Hemel Hempstead, which all together surpass 110MW of IT load.
The Dagenham build is part of a wider expansion by NTT Ltd.; just last week it launched Osaka 7. The facility was opened on December 1 and is located in Ibaraki, Osaka, within range of major cities including Kyoto and Kobe.
Much like London 1, Osaka 7's first phase will offer 3,800 sq m of IT space and eventually be expanded to 9,500 sq m and 4,200 racks to meet demand.