A Japanese design firm has proposed that humanity can board floating cities and drift away from climate change concerns.
N-Ark's website proposals for Dogen City include houses, shops, and offices inside a floating ring that provides healthcare services, and farms growing crops in seawater.
The city design proposes an underwater sea-cooled data center for city management, healthcare, and drug discovery. The company also talks of building underwater Edge data centers.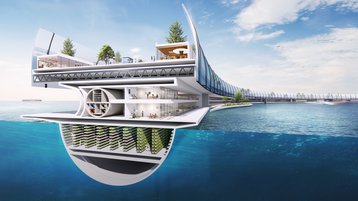 The ambitious project was described in a press release this week. N-Ark also announced a consortium to steer the project. DCD has contacted N-Ark to ask for more details.
The city design is comparatively small: 1.58 km in diameter and about 4km in circumference or about an hour's walk. "With about 10,000 inhabitants, it functions like a city, but livability is like a small village."
The business model seems to be a spa for the wealthy to escape the reality of climate destruction: "Dogen City provides medical tourism that combines foods, cuisines, and seawater hot springs produced by seawater agriculture and complex aquaculture."
N-Ark adds: "We also accept and provide advanced education to victims of natural disasters and climate refugees."
The data center is cooled by sea-water, and the project offers daily telemedicine to the floating residents, including blood sampling and genome analysis: "By combining medical data and genomic data, it is possible to more accurately evaluate the health status of individuals and receive cutting-edge medical care such as drug discovery simulations and remote robotic surgery with arithmetic processing at the underwater Edge data center."
The company launched in 2021 as an architectural startup, in response to fears that Japan would be badly affected by flooding if efforts to reverse climate change fail - and was already suffering increased flood damage.
"In 2018 and 2019, Japan's flood damage amounted to about 2.15 trillion yen ($15.35bn), at about 1,405 billion yen ($10bn) nationwide, the largest amount of damage caused by floods other than tsunamis for the second consecutive year since statistics began," the company's launch statement said.
"As many as six million people across Japan may be affected by flooding if Co2 reduction measures are not progressing in 2030," says the company, adding that farming is particularly badly affected.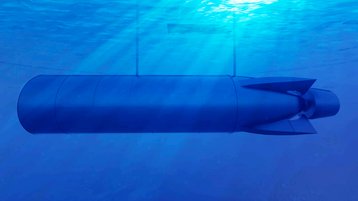 In response, N-Ark wants to develop the ocean's surface commercially, under the slogan "New Ocean," coined to echo the "New Space" term used by SpaceX.
N-Ark has proposed salt-resistant floating farms, and coined the term "Arktecture", (Ark+Technology+Culture).
The first prototype farms and experiments were due to begin in the second half of 2021 by Cultivera, a farming tech firm owned by one of N-Ark's partners, on Lake Hamana with Hamamatsu City, Hamana Fisheries Cooperative Association, leading up to a demonstration at the Lake Hamana Flower Expo in March 2024.
The company's video says it can "turn climate change into a positive," and promises that Dogen City will include functions to adapt to climate change: "It promotes daily mental and physical self-care, and you can also experience various programs."
If the floating city is not futuristic enough. N-Ark goes on to promise "a new tourism industry will be developed that connects space, the sea, and the ground as a launch and landing site for rocket transportation services."
The company promises a consortium of industry, academia, and government to address technologies, laws, and regulations needed to develop the ocean surface.
The board of the project includes Professor Yuichi Tei of the University of Tokyo School of Medicine, Rie Sasaki Herman of cyber security firm Hexa Agency, Shohei Toyonaga, CEO of aquaculture firm Cultivera, Mamoru Nozaki of waste treatment firm Recotech, Ken Isono of Shizen Energy, and Takahiro Nakamura of space startup Midtown