Toshiba is to be taken private by Japanese investment firm Japan Industrial Partners Inc (JIP)
The Japanese conglomerate this week announced that TBJH Inc., an indirect subsidiary of JIP, is to acquire all of the company's shares on the Tokyo and Nagoya Stock Exchanges, taking the company private.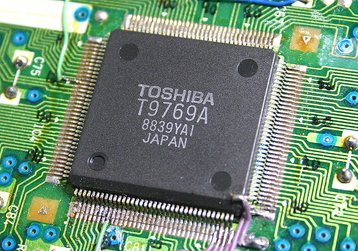 The WSJ, which reported the news, notes the deal is valued at around $15 billion.
Toshiba's announcement of the offer notes its board of directors has supported the proposal, despite the price being 'below the lower limit of the share value range per share as calculated by UBS Securities' – around 10 percent higher per share than its current value.
"The special committee believes that the tender offer price is the best price that can be expected from potential investors and sponsors today as JIP's offer was the only comprehensive bid on the table at the end of a year-long, fully competitive and fair process," Toshiba said.
Toshiba offers energy and battery systems, enterprise-grade HDDs as well as building solutions.
While it has sold off a number of business units, Toshiba still retains a stake in the memory chip business Kioxia.
The deal structure is a web of subsidiaries. TBJ is a wholly owned subsidiary of TBGP, Inc., which itself is a wholly owned subsidiary of JIP. Under the deal's structure, TBJ will be acquired by another JIP subsidiary, an investment fund called TB Investment Limited Partnership (TBLPS), through Brick Lane Partners. TBLPS will also work alongside the Related Fund in the deal.
TBLPS is made up of four JIP funds, 17 Japanese businesses, and six Japanese financial institutions. The Related Fund is made up of JIP overseas cooperative funds and overseas funds including those from Japanese institutional investors.
JIP was established in November 2002 to purchase and restructure companies, with a focus on divisions of larger companies. Previous investments include Sony's VAIO laptop division, NEC's Biglobe ISP, and Hitachi's Alaxala telecom unit.
In April 2022, Toshiba announced it had formed a special committee to 'engage with potential investors and sponsors, and review strategic alternatives' ahead of a potential sale. By May the company said it had 10 interested buyers, with Bain Capital, CVC Capital Partners, and KKR & Co. reportedly in the running. CVC made an acquisition offer for the company in 2021, before pulling out of the deal in the April of that year.
JIP emerged as the preferred bidder but negotiations have been ongoing around an agreed price for months.
Toshiba, previously known as the Tokyo Shibaura Denki K.K. (Tokyo Shibaura Electric Co., Ltd) was founded from a 1939 merger between Shibaura Seisaku-sho (founded in 1875) and Tokyo Denki (founded in 1890). Starting out as a telegraph equipment manufacturer, the company expanded into a number of adjacent sectors over its near-150-year history.
An accounting scandal in 2015 and the bankruptcy of its Westinghouse energy subsidiary in 2017 forced the company to sell off a number of units in an attempt to streamline and cut costs. A plan to split into three separate companies focusing on infrastructure, electronics, and the company's remaining businesses was adopted in 2021 and dropped the following year.