The North Queensland Regional Data Centre in Townsville, Australia, is now online.
The facility, run by colocation provider iSeek, in joint partnership with telco Optus and supplier Schneider Electric, is designed to withstand extreme weather events, including cyclones.
Data center inside a disaster center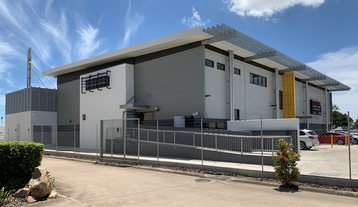 HDR | Hurley Palmer Flatt Group, which provided the mechanical services design, called the facility "indestructible," adding that it should remain intact during Category 5 cyclones with a force of up to 280 kilometers per hour (174 miles/h).
"We considered all the scenarios to deliver this pioneering facility, including fixing mechanical components to the structure in a way that they can withstand extreme force, and addressing the knock-on effect on airflow," Peter Gaston, project director at HDR | Hurley Palmer Flatt Group, said.
"Add to that there are only a few types of protective mesh certified for use in cyclone areas, so the whole process demanded meticulous coordination of equipment and design."
Ian Porter, iSeek COO, added: "Everything has been considered, from double hinging gates, to condenser cages providing protection from flying cyclone debris, tropical climate humidity control, reinforced concrete walls, and internal walls to meet the Queensland Government Cyclone shelter standards. We have achieved a new benchmark in data center design for environmentally volatile environments."
Unmentioned in the press release promoting the data center's design is the fact that the facility is set on the lower floor of the new Local Disaster Coordination Centre (LDCC), an AU$8.5 million (US$5.7m) project built with AU$3.8m (US$2.6m) in funding from the Townsville City Council, and AU$1.9m (US$1.3m) from the joint Commonwealth-State Natural Disaster Resilience Program.
The LDCC was built by local construction company Jackson Semler.
"The LDCC is built with 54 tonnes of reinforced steel and almost 650 cubic meters of concrete – making it able to withstand winds of over 300 kilometers an hour (186mi/h)," Townsville Mayor Jenny Hill said at the LDCC's opening in December.
"We will be able to keep residents informed with updates during an event because of the up-to-date backup power and water supplies, allowing the center to be self-sufficient in any emergency."
Townsville City Council and James Cook University will be anchor tenants at the data center set inside the LDCC.
In an upcoming supplement on colocation design, out soon, DCD will look at the importance of building for extreme weather events in a time of climatic uncertainty. Be sure to subscribe for free.