Storage company Iron Mountain has staged a grand opening on 26 September, for a Singapore facility it bought from Credit Suisse two years ago.
Iron Mountain bought SIN-1, in Serangoon, Singapore, along with a London data center, from banking giant Credit Suisse in 2017, for a total of $100 million, in a deal which was expected to complete in early 2018. It is Iron Mountain's first data center in Asia, and according to the company's site has 157,000 sq ft (14,500 sq m) of space, and can expand to 6MW of power capacity.
SIN city?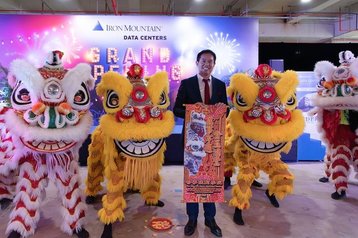 "We hope you have enjoyed yourself with a uniquely styled, one-of-a-kind opening in Singapore which showcased who we really are - A US-based global Data Center provider with some local touches," said Michael Goh, general manager Asia at Iron Mountain, after the event.
Iron Mountain has expanded the facility, so it now has four halls, with space alongside existing tenants, which include Credit Suisse. "After we purchased this building, we went ahead with the first phase of expansion for 1.5MW of capacity, 10,000 sq ft of space," Goh told DCD. "Based on the current design, we can do a minimum of 3MW for future space with options for more capacity if needed."
Credit Suisse has consolidated back to around 4.2MW across both the sites it sold to Iron Mountain (the other is in London).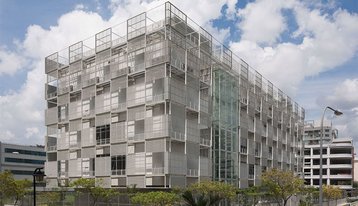 Flexible
The site is intended to offer hybrid IT services, including cloud backup, migration and disaster recovery, as well as flexible wholesale and retail colocation, in units ranging from private suites, through secure cages, down to individual cabinets.
It has security controls, customizable for colo customers, which include a guarded entrance, 3-factor access controls, and background-checked staff. The company's site promises a PUE around 1.2, which is impressive for Singapore's warm climate, and says that Iron Mountain uses 100 percent renewable energy - presumably achieved through carbon credits and green tariffs in Singapore. .
The site has access to "hundreds of global carriers, public and private cloud providers, and IT services providers" with redundant meet-me rooms and diverse fiber points of entry.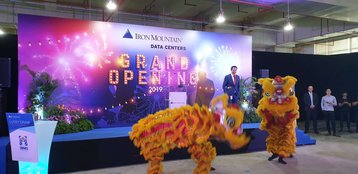 "We are excited to move into the next phase of growth for our digital strategy with the expansion of our global data center platform, building on our momentum in Phoenix and Western Europe," said Mark Kidd, EVP data centers at Iron Mountain.TVRA and OSPAR
Iron Mountain has 14 operational facilities in 13 markets, on three continents, and says that its land and buildings could support a total of 350MW of IT capacity at full build-out.
The company is constituted as a data center REIT (real estate investment trust), and its stock is currently receiving attention from investment advice sites. The company is transitioning from a legacy document storage business to a digital model, and some sites are skeptical about its ability to grow the new revenue while living off the legacy business.