The Iranian government has expanded its Internet shutdowns across the country as protests mount over the killing of Mahsa Amini.
The nation has been gripped by protests after Amini died in custody after being detained by the 'morality police' for allegedly wearing the mandatory Islamic headscarf too loosely.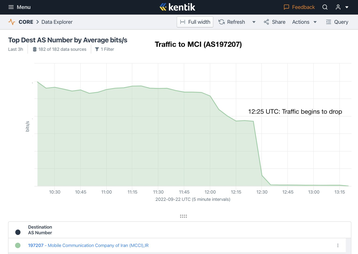 The state originally degraded Internet services in major cities and cut off connectivity in Iran's northwestern Kurdish region. But, with protests continuing, it has expanded the blackout further.
"Iranian mobile carriers down again," Doug Madory, the director of Internet analysis at Kentik, tweeted. Carriers including IranCell, Rightel, and MCI have experienced multi-hour simultaneous outages.
Before the wider outages, Instagram, and WhatsApp were specifically blocked - most other major social media platforms are permanently blocked, but the two Meta properties are usually allowed to keep operating.
The blackouts do not appear to be slowing protests, which have spread to at least 15 cities. Local media reports at least seven have been killed in violent crackdowns.