Ipswich Borough Council has voted to build 150 homes on the site of a former BT data center and office.
As previously reported by DCD, the site in Ipswich, Suffolk, currently holds a five-story office building and a two-story data center, both of which have been empty since 2015.
The Ipswich Planning & Development Committee this week approved plans to turn the former office block into 78 new flats, and demolish the car park and data center in order to build 72 new homes.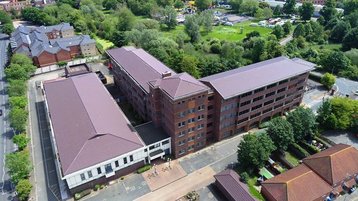 The 4.3-acre site on Bibb Way was bought by Ipswich Borough Assets, the commercial arm of Ipswich Council for £4.1 million ($5.7m).
Now that the Committee has given the go-ahead for the development, the site will be transferred to Ipswich Borough Council and the development completed by Council-owned Handford Homes. Work is scheduled to start in 2022 and be completed in 2024.
"This great new development will see 150 quality council homes built to a high standard that will be ready for tenants to move in 2024. This large project shows our continuing commitment to build quality council housing in Ipswich," said Cllr Neil MacDonald, Ipswich Borough Council Portfolio Holder for Housing.
IBA Chair, Colin Kreidewolf, added: "It's a really good scheme and it will help transform this area of the town. It's quality homes for Ipswich people."