Hosting services provider Ionos has opened a new UK data center in Worcester, Worcestershire.
The company and its UK subsidiary Fasthosts this week opened the new facility, located at the Worcester Six Business Park.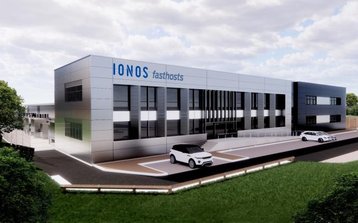 The 43,700 sq ft (4,000 sqm) site comprises a 30,730 sq ft (2,850 sqm) data center and 13,000 sq ft (1,200 sqm) of ancillary offices. The company invested around £21 million ($23.6m) in the project.
Henning Kettler, chief technology officer at Ionos, said: "Ionos understands that its UK customers feel more secure knowing their data is being safely stored in UK-based data centers that are more easily accessible. As such, we are delighted to officially announce the opening of our new site in Worcester, which demonstrates our ongoing commitment to our customer's needs, the UK market, and ongoing investment into infrastructure and jobs within the industry."
Simon Yeoman, Fasthosts chief executive, added: "It's fantastic to be able to bring our customers along with us as we take a big step into the future with the launch of this state-of-the-art data center. Thanks to the building's clever modular design, it is now home to a separate, dedicated data center 'module' that has been created specifically for Fasthosts customers."
Ionos submitted plans for the facility in August 2020, with the aim of gradually movings its 10,000 servers from its current offices in Gloucester, 30 miles (48 kilometers) away, to the new data center. Wychavon District Council approved the plans the following November.
It broke ground on the facility in March 2021, and practical work was completed by the following October. The company had originally hoped to bring it online by January 2022.
"In setting up our new Worcester data center, we are now in the process of migrating our existing Gloucester data center to the new location. A lot of expertise and attention has gone into the migration planning process and businesses will certainly enjoy the benefits in the long run when they unlock the raft of benefits such as increased connectivity, improved uptime, and top-tier products, underpinned by more sustainable hosting," said Yeoman.
Founded as 1&1 in 1998, the company became Ionos after merging with ProfitBricks' cloud infrastructure solutions in 2018. The company is part of Germany's United Internet group and operates from six other data centers across the UK, US, Germany, and Spain; a Virtus data center in London; an Equinix facility in Frankfurt and a United Internet facility in Berlin; a Switch facility in Las Vegas and a QTS facility in New Jersey; and an Arsys Internet data center in Logroño.