American data center specialist IO is planning to build a massive three-story expansion on its campus in Phoenix, Arizona, which also hosts the company's headquarters.
The third phase of site development will offer more than 100 MVA in capacity, added gradually using pre-fabricated data center modules from BaseLayer.
Construction work will begin in late 2016 and IO expects to welcome first customers to the facility sometime in 2017.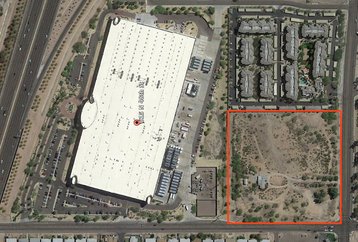 Modular at scale
IO was established in 2007 as a pioneer in modular data center design. Until 2015, the company operated two distinct lines of business - it offered colocation and cloud services, while also selling modules to its competitors.
Early last year, the company split into two, with BaseLayer taking over the modular data center business and IO continuing to manage data centers in Arizona, Ohio, New Jersey, Singapore and London.
True to its origins, IO runs the world's largest modular data center in Edison, New Jersey.
Meanwhile the Phoenix campus is already one of the largest multi-tenant colocation data centers on the west coast, with more than 120 MW of core power.
IO purchased approximately nine acres of land to the south of the existing facility earlier this month, and is planning to start construction before the end of the year. The company envisions a building that has been designed to house BaseLayer Core modules on top of each other – something it says is a first for the industry.
When fully complete, the expansion will house more than 600 individual modules.
"Our Phoenix data center campus is an incredible success story – driving us to expand at a huge scale to keep pace with customer demand," said Tony Wanger, president of IO.
"We build and operate the most highly efficient, sustainable data centers for the most demanding customers around the world. Our newest data center will set the standard for state-of-the-art infrastructure that supports colocation and cloud services. It also demonstrates our company's commitment to continue to invest in our hometown community."