Invinity Energy Systems has sold a 1.3MWh vanadium flow battery system to Kinetic Solutions for a microgrid powering a data center in Arizona.
Invinity will put six of its VS3 batteries alongside 400 kWp solar power installation, so the batteries can power the data center 24x7, and mitigate the effects of any power outages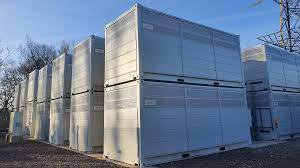 The batteries are due to be shipped in early 2023.
Vanadium redox flow batteries are one of the leading alternatives to lithium-ion batteries for stationary power storage. They use vanadium ions as charge carriers, dissolved in solutions which generate a current through a membrane.
The technology has a good lifetime, operating for 15,000 to 20,000 cycles and last 25 years, but vanadium flow batteries are heavy and have a low energy density, approaching that of lead-acid batteries. They fall a long way short of the energy density of lithium-ion batteries, but do not suffer from the risk of thermal runaway and fire.
Vanadium flow batteries tend to be used for grid balancing: for instance, Invinity has provided a 5MWh, 2MW system for the Energy Superhub Oxford project, which provides energy to decarbonize transport and heating in the city of Oxford.
With the Biden administration supporting renewable energy, Invinity's battery is expected to generate Investment Tax Credits (ITCs) for Kinetic as a result of the Inflation Reduction Act.
"We are thrilled to be working with Kinetic Solutions on this US project that showcases the advantages of vanadium flow batteries and provides a real-world example of Invinity products generating investment tax credits for our US customers," said Matt Harper, Chief Commercial Officer at Invinity.
DCD has contacted Invinity for more details of the Kinetic project.