Energy storage provider Intilion has received the largest order in the company's history from a subsidiary of Deutsche Telekom.
PASM Power & Air Condition Solution Management GmbH (PASM), which is fully owned by the German telco, has placed an order for storage systems with a total capacity of around 60MWh, with these to be installed at Telekom locations.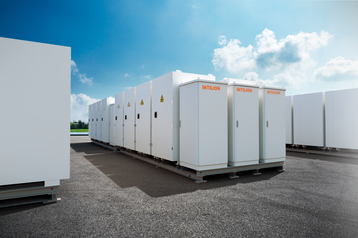 According to Intilion, commissioning is planned to take place by the end of 2023.
"The order from PASM is another important milestone in the company's development," said Dr. André Haubrock, CEO of Intilion AG. "We have not only received our largest order for large-scale storage systems so far from a well-known customer but also successfully entered the important market of energy storage systems for the telecommunications industry and data centers.
"We expect a high demand for energy storage systems in these sectors in the next few years - especially due to the switch to electricity from renewable energies. We have already made preparations to take on an important role in this market as well."
Intilion specializes in providing highly scalable and integrable energy storage solutions (ESS) with a comprehensive range of services, primarily for use in system-relevant and critical infrastructures such as commercial, industrial, and grid applications, while the storage capacities of the company's lithium-ion-based ESS products range from 70kWh to 100MWh.
As part of the contract, Intilion is building three of its Scalecube large-scale storage systems for Deutsche Telekom data centers, with energy storage systems with a capacity of around 26MWh set to be installed at each of the two locations in Hanover and Bamberg, plus a further 6MWh at the Münster location.
The company notes that it will trial operations from the third quarter of 2023, and will transition to regular operations by the end of the year.
Its Scalecube storage systems can be installed with a capacity of up to 100MWh.
PASM Power & Air Solutions is the energy supplier for the Telekom Group in Germany. It's responsible for ensuring the availability of critical infrastructures, including the procurement, provision, and delivery of energy.
Earlier this year, PASM and Telekom announced plans for a 300MWh battery storage rollout across Germany by 2023. The company said that it plans to implement the first 20 percent, some 60MWh, by the end of 2023.
The companies partnered with Norwegian modular energy storage firm Pixii for a 1MW/6MWh deployment.
DT has previously partnered with Ericsson to demonstrate 'off-grid' cell towers powered by wind and solar energy generated by on-site panels and turbines.