Google has hired an Intel high performance computing veteran to head up its efforts in the HPC space.
Bill Magro spent 20 years at the chipmaker, most recently as chief technologist of its HPC division - he will assume the same role at Google. The move comes a few months after Cray CTO Steve Scott took a job at Microsoft Azure, also for the cloud company's supercomputing efforts.
HPC heads to the cloud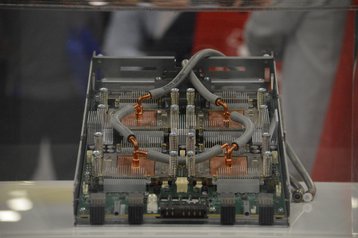 "After 20 amazing and very fulfilling years in HPC at Intel Corporation, I am excited to share that I've joined Google to pursue my passion for HPC in the Cloud," Magro said in a LinkedIn post first reported by HPCwire.
"It was a true privilege to work with so many wonderful people at Intel; I feel honored to be joining another great company in Google!"
Google has invested heavily in ramping up its HPC offering, most recently becoming the only cloud provider to host 16-GPU A100 instances, as well as offering its fourth-generation Tensor Processor Unit
"For HPC we have a very long and very involved roadmap like as HPC," Google Cloud's networking product management head Lakshmi Sharma told DCD earlier this year. "For us, HPC is compute, storage, networking, AI/ML infrastructure, API Management, security - all of it is really horizontal for us."
She explained that Google's Cloud HPC product "is not built how some other vendors or competitors have built it, it is not specialized hardware, it is not a specialized API. The way we have designed HPC is like any other compute that you will see, the only things that you will see coming for HPC [specifically] is that you can scale to thousands and then tens of thousands and hundreds of thousands of cores and compute on AI/ML infrastructure and then connect them through technology various kinds of technologies.
"The way Google is thinking about HPC is not specialized hardware, where you have to resource allocate for this fixed amount of time," Sharma said. "Our approach to HPC is just like you see in any converged infrastructure."