Intel has revealed the latest batch of silicon to come out of its foundries – the all-new Xeon E3-1200 v4 family, designed for media workloads.
All five of the new CPUs include the latest Iris Pro P6300 graphics on the chip, making them suitable for data centers that support video streaming and online gaming services.
The E3-1200 v4 was primarily designed for media companies that want to obtain more graphical performance from their servers without having to deploy dedicated data center GPU hardware like Nvidia's GRID or AMD's FirePro.
The announcement was made at the Computex show in Taipei, where Intel also launched fifth generation Intel Core processor family and revealed more details about Thunderbolt 3.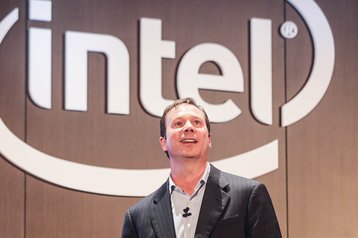 Pretty pictures

The Xeon E3-1200 v4 are Broadwell CPUs built on the 14nm process. The models announced at Computex all feature four cores, eight threads and 6MB of cache, and are available in frequencies ranging from 1.8 to 3.5GHz.
The chips support hardware-accelerated transcoding – courtesy of Intel Quick Sync Video – and the company says they deliver up to 1.4x more performance for video and up to 1.8x more 3D graphics performance compared to the prior generation silicon.
Besides cloud-based services, the new Xeons can be used to deliver remote workstations for demanding work in 3D design and architecture.
The fourth generation chips will be followed by E3-1200 v5 in the next 18 months – these will be based on a new architecture called Skylake, and are likely to constitute more than an incremental update.
Also at Computex, Intel had launched the fifth Generation Intel Core CPUs for the consumer market. Just like their server brethren, these chips now include Iris Pro graphics instead of traditional Intel HD line. There are a total of ten variants: five for desktops and five for mobile devices.
This marks the first generation of Intel's desktop CPUs with Iris Pro on the chip – desktops usually come with a dedicated video card, since integrated GPUs are not known for their performance. Intel says that's about to change: it claims that the new flagship i7-5775-C with Iris Pro Graphics 6200 delivers twice the graphical performance of the previous generation i7-4790S with Intel HD graphics 4600.
It also achieves this level of performance in a lower 65-watt thermal design point, making even the more powerful Core chips suitable for small form-factors that can offer less cooling capability – for example media centres and All-in-Ones.
Fifth generation Intel Core system availability is expected in the next 30 to 60 days.
Finally, Intel said its Thunderbolt 3 - the fastest way to connect peripherals, with a throughput of 40Gbps - is now compatible with USB-C, the next generation reversible USB connector and port specification. Initial products with Thunderbolt 3 are expected to start shipping before the end of this year, and ramp up in 2016.